Data Storage Device comes with 5 TB capacity.
Press Release Summary: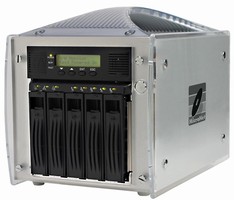 Platinum RAID Pro(TM) multi-terabyte eSATA RAID solution is built around 64-bit Intel XScale processor matched with 128 MB of error-correcting cache, handling intensive SMB RAID applications including digital video, HD audio, digital imaging, and streaming backup. Five 3 Gbps SATA-2 drives can be configured for RAID 0, 1, 3, 5, 0+1, and JBOD operation. Available in lightweight aluminum enclosure, it is operating system independent and requires no drivers to be installed.
---
Original Press Release:

Micronet Smashes eSATA Disk Array Capacity



June 5, 2007

MicroNet Technology, an innovator in storage solutions for small and medium businesses (SMBs), today introduced the Platinum RAID Pro(TM), a multi-terabyte eSATA RAID solution that transcends the capacity limitations of SATA disk arrays and the performance bottlenecks of USB and FireWire storage with a compact transportable unit that provides simplicity and ease-of-use, allowing SMB users to focus on their business and not on data storage.

MicroNet's new 5 terabyte Platinum RAID Pro combines the highest capacity of any eSATA disk array on the market with a new performance-focused design built around a 64-bit Intel XScale processor to accelerate I/O throughput, and eSATA connectivity that provides more data bandwidth and eliminates the performance penalties of USB and FireWire bridging. Designed for small and medium businesses who need high-capacity and high-performance storage but not high-complexity storage, the Platinum RAID Pro delivers extraordinary ease-of-use. It is completely operating system independent and requires no drivers to be installed. The unit is factory-configured for RAID 5 so users can simply plug it in and immediately enjoy the benefits of huge capacity expansion and parity RAID data protection.

The capacity breakthrough achieved by MicroNet is the result of design innovations in the eSATA host bus adapter and RAID controller to eliminate the 2 terabyte volume size limitation that restricts the available capacity of alternative eSATA-based disk arrays, allowing customers to access the full 5 TB capacity potential of the Platinum RAID Pro. To take advantage of this unprecedented capacity, host computers must be running a modern operating system, including Windows Server 2003 and above, Windows Vista, recent Linux releases and Mac OS X, that is not burdened with older ATA address limitations.

"Because of the growing storage demands present in the SMB space, more customers are seeking greater capacity at affordable price points," said Behzad Eshghieh, CEO of MicroNet. "Specifically, organizations with storage-intensive digital media applications with a need for ready-to-use solutions to protect, transport and secure their irreplaceable files. The Platinum RAID Pro was created to meet the mammoth capacity and performance demands of these customers while maintaining MicroNet's reputation for storage products that are simple to install, manage and scale."

At the heart of the Platinum RAID Pro is the 64-bit Intel processor matched with 128 MB of error-correcting cache, providing the robust performance to easily handle the most intensive SMB RAID applications, including digital video, HD audio, digital imaging and streaming backup. Five 3 Gbps SATA-2 drives can be configured for RAID 0, 1, 3, 5, 0+1 and JBOD operation. eSATA connectivity ensures that users can quickly address the mammoth available capacity, providing more than a 200 percent raw data rate improvement compared to FireWire- and USB-based external storage solutions. Performance is further improved with the pure SATA environment that bypasses the throughput hits imposed by having to convert SATA drive protocols to FireWire and USB signals.

The Platinum RAID Pro enclosure is a durable yet lightweight aluminum and Plexiglas design that includes a built-in handle to enhance portability. In addition to standard primary storage applications for SMBs, the convenient enclosure design makes the unit ideal for a variety of applications, including backup of multiple departmental systems and distribution of high-capacity digital content across multiple locations.

Price and Availability

MicroNet's Platinum RAID Pro is currently available with pricing starting at $2349 for a 2.5 terabyte array, $2999 for a 3.75 TB configuration and $4499 for the high-end 5TB model. Customers can configure the array with appropriate eSATA HBA based on their host system requirements, either a two-port PCI-E HBA or a four-port PCI-X adapter.

About MicroNet Technology

Based in Torrance, California, MicroNet Technology develops an award-winning line of data storage solutions for creative professionals and IT managers. From the affordable Platinum Series of desktop products through enterprise-wide Storage Area Networks, MicroNet Technology continues to lead the industry in quality, performance and value. MicroNet's award-winning storage solutions include SANcube(TM) FireWire Storage Area Networks, Omega Enterprise storage and SAN solutions, miniMate(TM) and the Platinum(TM) family of personal storage. For product and reseller information, contact MicroNet Technology, at phone: 310-320-7272, fax: 310-328-0202, or on the World Wide Web at www.micronet.com

Contact Name: Joe Trupiano

Title: Director of Marketing
E-mail: joet@micronet.com

More from Test & Measurement