Data Portal includes 66 manufacturers and 470,000 records.
Press Release Summary: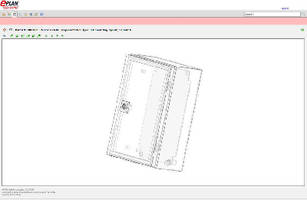 With integrated 3D viewer, Eplan Data Portal enables 470,000 part data, including macros, geometric dimensions, and documents, to be imported to engineering automatically. It is possible to access several different views such as front, page, or isometric views with click of mouse. Interface of Eplan Data Portal has also been optimized with design functionality of Data Portal App. Manufacturers have adapted look and feel by displaying manufacturer logos in grid view to speed up navigation.
---
Original Press Release:

(Re)Launch: New EPLAN Data Portal



An integrated 3D viewer, a new user interface with manufacturer logos in fast and easy grid layout, additional manufacturers and updated component catalogues: The new version of the Eplan Data Portal will be available as of August 2014 and it provides users with significant functional advantages and, since it now contains 470,000 components, also features 20% more device data.



Monheim, -- The new version of the Eplan Data Portal will be available in August 2014. Users will benefit from enormous time savings and increased project quality. The current 470,000 part data, including schematic macros, geometric dimensions and documents, can be imported to engineering automatically. This is made easier, thanks to the innovative functions such as a newly integrated 3D viewer, which enables users to view and assess components quickly and easily. It is possible to access several different views such as front, page or isometric views very easily with just a click of the mouse. Free rotation and zooming functions allow individual detailed views to be generated in a very flexible manner. The advantages for the user are obvious: For example, when placing a part in the project, the user will receive reliable decision support as to whether the component is suitable for the proposed control cabinet.



Innovative operation with feedback function

The interface of the Eplan Data Portal has also been optimized with the design functionality of the Data Portal App. Now the view of the 66 manufacturers that are currently involved have adapted this look and feel by displaying the manufacturer logos in a grid view that speeds up navigation. The feedback function has also been expanded with the new interface. Users can directly submit requests to manufacturers in the application. For example, if the user wants to send information about missing components, it can be done directly from the Data Portal. This means that the quality of the data is constantly increasing. The manufacturers involved also reap the rewards: the feedback function provides a direct line to the customer. The manufacturer knows what is required in concrete terms and can fulfil the user's requests in an optimal manner. The improved search function is another new addition to the portal. Search requests for article or type numbers are directly displayed as the first search results – this means the right component can be found faster.



66 manufacturers with more than 470,000 records

The Eplan Data Portal has not only made a major leap forward in terms of functionality, but also in regard to the manufacturer catalogues. Since the last update, in the beginning of July, five new product catalogues have been added. A further ten product catalogues have been expanded and updated. The number of devices has increased by more than 20%, which means that there are now more than 470,000 parts available. The renowned Italian manufacturing company, Finder, is now represented with almost 700 records. Another new addition in the field of sensors and evaluation systems is ifm electronic with almost 500 records to support their customers. The new integration of the Vega configurator is also an interesting addition to the Data Portal. This means that the user is not only provided with standard components for process measurement technology from Vega Grieshaber KG, but also has the option of individually selecting and configuring components according to project demands.



Updated and expanded data

Manufacturers that were already integrated into the Data Portal have also amended and/or expanded their product portfolios. For example, Siemens has set up more than 2,100 records from the 3VA series, as well as the commercial data and the switch symbols for Eplan and documents, and 3D data including production information is also now available. Rockwell Automation has added more than 1500 parts from their MicroLogix product line, Micro850 product line and molded case circuit breakers. SMC Pneumatic has updated and expanded its product spectrum. Fluid users now have a variety of cylinders, valves and tubes at their disposal since there are now more than 15,000 records to choose from. ABB, General Electric, Icotek, Helukabel, Numatics, Rockwell Automation, Sick and Wieland have also updated their product ranges in the Eplan Data Portal.



Conclusion:

Users benefit from a constantly increasing amount of device data – combined with an innovative technology that supports efficient design.



More information: www.eplanusa.com/edp



EPLAN Software & Service develops engineering solutions, which accelerate the product development process. Interdisciplinary expert systems assure the highest degree of productivity and data integration. The solution provider develops customer-specific and tailor-made PDM and PLM concepts and provides comprehensive services such as customizing, consulting and training. Innovative development competence, a consistently practical approach, and international presence are the resulting success factors. EPLAN is part of Rittal International and thus of the Friedhelm Loh Group with 11,500 employees worldwide and generated revenues of about 3 billion USD in 2011. EPLAN is therefore synonymous with continuity and investment security. Eight offices in North America and company presence in 50 countries support 40,000 customers with 100,000 installations worldwide. The corporate motto - 'Efficient Engineering' - underlines the proficiency of optimized, efficient processes, which keep companies competitive in the long term.



EPLAN Software & Services LLC

425 N. Martingale Rd., Suite 470

Schaumburg, IL 60173

USA

KNAPIK Christine

Phone : +1-630-408-3863

Fax : +1-248-945-9210

Knapik.c@EPLANusa.com



EPLAN Software & Service GmbH & Co. KG

An der alten Ziegelei 2

D-40789 Monheim

Tel.: +49 (0)2173 3964-0

Fax: +49 (0)2173 3964-25

info@EPLAN.de

www.EPLAN.de

Birgit Hagelschuer

Phone : +49 2173 3964-180

Hagelschuer.B@EPLAN.de