Data Logging Systems support autoclave validation.
Press Release Summary: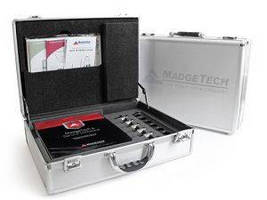 Comprising HiTemp140 and PR140 temperature and pressure data loggers as well as MadgeTech 4 Secure Software, AVS140 Data Logging Kits are suited for sterilization of equipment, laboratory uses, pre-disposal treatment, and sterilization of waste material. Featuring submersible design, HiTemp140 withstands temperatures to 284°F and offers ±0.18°F accuracy, while PR140 provides accuracy of ±0.435 psi over temperature range of 68–284°F. Software aids compliance with 21 CFR Part 11 requirements.
---
Original Press Release:

New Autoclave Validation Data Logging System



Cost-Effective Sterilization Complete with Certification and Software



CHESTERLAND OH — CAS DataLoggers and MadgeTech are excited to announce the release of the new AVS140 Autoclave Validation Data Logging System, featuring the HiTemp140 and the PR140 temperature and pressure data loggers and professional MadgeTech 4 Secure Software with IQ/OQ/PQ workbook. The AVS140 data logging systems are specifically bundled and tailored as a turn-key solution for users with autoclave and validation needs. Applications includes sterilization of equipment and supplies, laboratory uses, vulcanizing rubber, pre-disposal treatment and sterilization of waste material, and more. Call a CAS DataLoggers Applications Specialist at (800) 956-4437 and learn more!



These cost-effective kits provide a complete set of tools to achieve the desired results without all the hassle of having to coordinate components. Two versions of the kit are available: the AVS140-1 and the AVS140-6 Autoclave Validation Data Logging Systems.



The AVS140-1 Temperature Monitoring Kit Includes:

(1) HiTemp140 High Temperature Data Loggers with 1" probe style, with NIST Calibration Certificates

(1) IFC400 Interface Cable

(1) MadgeTech Secure Data Logger Software complete with IQ/OQ/PQ validation protocols and workbook



The AVS140-6 Temperature and Pressure Monitoring Kit Includes:

(5) HiTemp140 High Temperature Data Loggers with 1" probe style, all with NIST Calibration Certificates

(1) PR140-NPT High Temperature and Pressure Data Logger with an NPT port, with NIST Calibration Certificate

(1) IFC406 Multiplexer interface

(1) MadgeTech Secure Data Logger Software, complete with IQ/OQ/PQ validation protocols and workbook, providing tools to users to assist with FDA 21 CFR Part 11 compliance. (Other data logger probe lengths and styles available, call for details.)



The AVS140-6 kit is a complete system used to perform autoclave validations. The AVS140-6 consists of six NIST traceable high temperature and pressure data loggers, an IFC406 Multiplexer Interface and the MadgeTech 4 Secure Software providing tools to users to assist with FDA 21 CFR Part 11 compliance.



These kits have everything you need for autoclave validation:



The HiTemp140 Temperature data logger is rugged and high precision, built for use with autoclaves and harsh environments. This stainless steel device is submersible, can withstand temperatures up to 140°C (284°F) and has an accuracy of +/-0.1°C (0.18°F).



The PR140 Pressure data logger is designed for use in autoclave validation and mapping. This rugged data logger can withstand temperatures up to 140°C and is completely submersible (IP68). The PR140 is built with a precision stainless steel pressure gauge. The data logger has an accuracy of ±0.03 Bar (±0.435 PSI), which can be achieved over a wide temperature range, from 20°C to +140°C (68°F to 284°F). The PR140 can be programmed to take readings as often as once per second (1Hz), and has nonvolatile memory that can store up to 32,700 measurements.



The MadgeTech 4 Secure Software aids customers in compliance with 21 CFR Part 11 requirements. The software ensures standards in which electronic files are considered equivalent to paper records, saving time and effort. MadgeTech 4 Secure Software contains criteria such as electronic signatures, access codes, secure data files, and an audit trail which meet the requirements of 21 CFR Part 11 and help provide data integrity.



Also available is the AVS140-1, a single logger autoclave validation system.



For more information on our new Autoclave Validation Kit, more temperature data loggers, or to find the ideal solution for your application-specific needs, contact a CAS Data Logger Applications Specialist at (800) 956-4437 or visit the website at www.DataLoggerInc.com. Contact Information: CAS DataLoggers, Inc. 12628 Chillicothe Road Chesterland, Ohio 44026 (440) 729-2570 (800) 956-4437 sales@dataloggerinc.com  www.dataloggerinc.com