Data Loggers use smartphone app for remote monitoring.
Press Release Summary: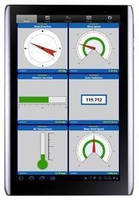 Available for iOS and Android, dEX Tablet App allows dataTaker Data Logger users to remotely display and monitor data, helping to prevent process delays and optimizing process control. Loggers use universal input channels to connect with nearly every sensor type. Units also provide variety of communications features, including RS232 with modem support along with Ethernet and USB memory stick ports. FTP can be used to push data to office PC over internet or mobile phone network.
---
Original Press Release:

Monitor Your Process from Anywhere with dataTaker!



New Smartphone App Connects You to Your Data



CHESTERLAND, OH— Are you a plant manager or technician who needs to keep tabs on an industrial process? Now dataTaker introduces the new dEX Tablet Apps for iOS and Android! The new app allows dataTaker users to remotely manage the logger network and are now available on Google Play and the App Store. DataTaker data loggers are ideal for keeping tabs on process data in almost every industry including environmental, industrial, construction, manufacturing, process management, laboratories and more. CAS DataLoggers offers dataTaker Intelligent dataloggers: call an Applications Specialist today at (800) 956-4437.



Process Monitoring From Your Mobile Device:

App Features:

• Remote Process Monitoring--Setup and display your logger data 24/7 from anywhere!

• Program your dataTaker and view data--all from your mobile device!

• Improved Dashboard performance

• Multi-lingual support



Thanks to the new dEX Apps for iPad and Tablet Products, dataTaker users can remotely display and monitor data, helping to prevent process delays and improving process control. A versatile datalogger with an intuitive user interface, dataTaker loggers have the communications features to track data and execute control functions from anywhere in the world.



Universal Solutions:

Datataker dataloggers use universal input channels to connect with nearly every sensor type so that users can log nearly every value such as Temperature, Voltage, Current, 4-20mA Loops, Resistance, Bridges, Strain Gauges, Frequency, Digital, Serial and Calculated Measurements.



Additionally, dataTaker's intelligent automation means that when your product's temperature suddenly rises or machine runtime drops, you'll get an instant heads-up. The bestselling dataTaker DT80 is a great example of this versatility.



Choose How You Connect:



Our dataTaker systems provide an impressive array of communications features including RS232 with modem support along with Ethernet and USB memory stick ports. You can also use FTP to push data to your office PC over the internet or mobile phone network without any need for polling or specific host software.



With a dataTaker you don't have to use expensive and replaceable memory cards—just store data onto USB or the logger's large internal memory (10 million data points) for extended logging.



Built-In Software:

The included dataTaker dEX software is easy to learn and enables quick creation of logging schedules to automate your process. Its Windows Explorer-style interface is simple to navigate and configure, getting you started on your project ASAP. The dEX software runs directly from a web browser and can be accessed anywhere that a TCP/IP connection is available.



See how easy it is to work with dataTaker software in our YouTube video: https://www.youtube.com/watch?v=CT7-f_rNVD8



For more information on how dataTaker data loggers can help protect your products, or to find the ideal solution for your application-specific needs, contact a CAS Data Logger Applications Specialist at (800) 956-4437 or visit our website at www.DataLoggerInc.com.



Contact Information:

CAS DataLoggers, Inc.

8437 Mayfield Rd.

Chesterland, Ohio 44026

(440) 729-2570

(800) 956-4437

sales@dataloggerinc.com

www.dataloggerinc.com







More from Software