Data Loggers provide wireless building monitoring.
Press Release Summary: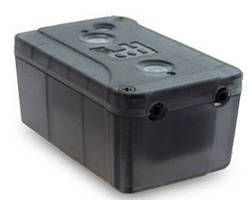 Utilizing battery-operated wireless sensors which can locally or remotely access building information and HVAC systems, Paragon Robotics Data Loggers allow users to view gas/water/energy usage, or lighting and occupancy to track individual suite performance and tenant usage. HaloCloud service offers access to system data, sensor measurements, and alarm configurations via smartphones and tablets. Managing 900 MHz wireless communication with sensors, single gateway covers 30,000 ft² facility.
---
Original Press Release:

Wireless Building Monitoring and HVAC Performance Solutions



Paragon Robotics Products Monitor Temp, Humidity and More



CHESTERLAND OH— Paragon Robotics data loggers utilize wireless sensors which can locally or remotely access office building information from HVAC systems, allow you to view gas/water/energy usage, or lighting and occupancy to track individual suite performance and tenant usage.



It's easy to install Paragon wireless dataloggers in individual office suites to monitor temperature and humidity throughout rooms and also in duct work to improve tenant and customer comfort. This is also an affordable way to ensure peak performance of HVAC operation. Duct work temperature sensors, air flowmeters and pressure sensors can eliminate inefficiencies such as poor filter performance and also detect heating/cooling element issues before they become critical.



Log and trend energy usage data room-by-room or for an entire tenant system with Paragon's Model SC18 wireless sensors and CT Current clamps. Property owners can monitor main or sub-power lines to evaluate power usage overall or for particular machines/systems within office areas. 



Paragon Wireless Sensors for:



• Room/ Ambient Temperature and Humidity

• Duct Temperature w/ thermistor probe

• Refrigeration Temperature

• Energy Usage w/ Current Clamps

• Air Flow for filter performance

• Differential Pressure Sensor for filter performance

• Water Leak Detection

• Light

• Occupancy



Remote Sensor Measurement Access and Immediate Alarm Notification with HaloCloud:



You have remote access from any location to your system data, sensor measurements and alarm configurations with Paragon's HaloCloud cloud service. View real time and logged sensor data from smartphone and tablets. 



This optional cloud service also provides individual sensor alarm capabilities and notification to multiple email addresses and/or text messages via SMS for monitoring critical conditions.



Simple Wireless Installation:



Paragon Robotics battery-operated and extended wireless range sensors can be placed anywhere throughout the office suite. With these low power sensors, there is no need for AC power or any additional wiring - just place and turn on the sensor! The sensors operate on two standard AAA batteries which last 5-7 years under normal operation and are easily replaced in the field.



The system gateway provides data storage and manages the 900 MHz wireless communication with the sensors. Paragon gateways are easily automatically configured when attached to your network infrastructure or directly to a PC/ Laptop. A single gateway provides coverage for a 30,000 Sq.ft. facility. Add additional Gateways to increase the coverage area or to manage multiple buildings in a single system. For flexible location installation, Gateways are available with a wired Ethernet or optional WIFI connection.



Expand the capabilities of existing BACnet and Modbus building networks by integrating any wireless sensor with a Paragon Super Gateway. Paragon's Super Gateways are equipped with a full ARM-based Linux platform for powerful scripting capabilities to communicate with BACnet, Modbus or any other custom network-based protocols. Feed Paragon Robotics sensor data directly into BACnet and Modbus software dashboards and network systems. BACnet and Modbus software scripts and translators are included at no charge with any Super Gateway. 



Real Time and Data Recording Software compatible with any Smart Device:



Paragon Robotics SetupDevices and DataRecorder software are included at no charge with a wireless data logging and acquisition system. Paragon software provides both local or cloud-based access to your system data and sensors on PCs and all mobile devices--tablets, smart phones and laptops. Chart, log and monitor all individual sensor data or perform a quick check of real-time sensor measurements with a multiview display.



With HTML5 programming, Paragon software is compatible with all browsers and devices--PCs, Laptops, Smartphones and Tablets. Data Recording and configuration screens automatically resize to the device display for best viewing results.



For a completely local system/ setup or if internet access is unavailable, all software is embedded on each system gateway. For a standalone system, simply access the software locally on the connected gateway and run the embedded software with all of the online version's features.



HVAC Systems/Energy Usage:



Track each HVAC system's performance data and keep your systems operating at their peak performance and energy efficiency. Use logged historic data to eliminate inefficiencies such as poor airflow, occupancy, and heating/cooling element issues.



Monitor current (Amps) on main and sub-power lines throughout your facility to evaluate power usage overall or by particular systems and machines. Utilizing the external clamp sensors (Model CT series) coupled with a Model SC18 wireless sensor, energy use and efficiency can be logged and monitored over time on any AC power circuit.



Tenant/Employee Comfort:



Maintain a comfortable building and/or working environment across multiple zones or rooms with Paragon Robotics wireless data loggers. Ensure comfort in small and large facilities with our scalable systems and ease of installing additional wireless sensors.



Monitor Temperature and Humidity settings in lobbies and commonly-used areas to ensure tenant and employee comfort throughout the day and to compensate for seasonal changes. You can use historical data trends to adjust air flow from central systems to control the environment. You can also use humidity sensors to prevent mold growth and ensure a healthy building environment with alarm capability and notification of extreme conditions.



For further information on Paragon Robotics Wireless Environmental Sensors, or to find the ideal solution for your application-specific needs, contact a CAS Data Logger Applications Specialist at (800) 956-4437 or visit our website at www.DataLoggerInc.com.



Contact Information:

CAS DataLoggers, Inc.

8437 Mayfield Rd.

Chesterland, Ohio 44026

(440) 729-2570

(800) 956-4437

sales@dataloggerinc.com

www.dataloggerinc.com

More from Software