Data Logger records pipe fusion process parameters.
Press Release Summary: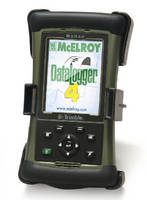 Designed to verify that proper pipe fusion procedures have been followed prior to installation, DataLogger® 4 comprises handheld computer for recording and navigating data, as well as data collection unit that records 0-3,000 psi fusion pressure over time. FusionGuide(TM) feature gives visual go/no-go interpretation of graphs presented on handheld computer and PC after data download. All data generated can be stored, viewed, printed, or transferred to desktop computer for archiving.
---
Original Press Release:

McElroy Introduces DataLogger® 4



Latest model offers numerous enhancements for polyethylene pipe fusion datalogging

TULSA, Okla. - McElroy recently introduced the latest version of the DataLogger® series of quality assurance tools. The DataLogger 4 is a new, smaller version that records and documents key parameters of the pipe fusion process.

McElroy DataLoggers are cost-effective devices that are used to verify that the proper pipe fusion procedures have been followed prior to installation. The device consists of a rugged, handheld computer for recording and navigating the data, as well as a data-collection unit that records fusion pressure over time.

The DataLogger 4 has a wide range of enhancements over previous models. One of the major additions is FusionGuide(TM), a feature designed to give a faster visual "go/no-go" interpretation of the graphs presented on the handheld computer and the PC after data download. A trained inspector could look at the generated graphs and determine if a fusion joint was fused with the correct pressures and times according to published standards.

Fusion technicians will also appreciate a smaller size, internal battery within the handheld computer that powers all the included DataLogger equipment, twice the screen resolution as previous models, and a coiled cord between the pressure sensor data-collection unit and the handheld computer that extends to four feet long and stores at a smaller two feet long. The pressure sensor has a 0 to 3,000 PSI pressure range. Technicians will also be able to provide temperature readings using their own preference of pyrometer.

"The new DataLogger 4 is a huge step in the progression of our quality assurance tools," said Chip McElroy, president and chief executive officer of McElroy. "This DataLogger has many of the world's fusion standards built into the software. That will help more fusion technicians accurately fuse pipe to the standards chosen for their job."

Besides cosmetic improvements, the DataLogger 4 will have worldwide appeal due to the multilingual options. English, Portuguese, Spanish, Russian and Simplified Chinese are all installed and available for use with the DataLogger 4 software. The desktop computer software also supports these languages.

The DataLogger 4 supports ASTM F2620-11, ISO 21307:2011-05, GIS/PL2-3:2006-07, Profuse, WIS 4-32-08:2002-04, DVS 2207-1 PE-HD:2005-09 and DVS 2207-11 PP:2008-08 standards. More standards could be added later through software updates.

The handheld computer is designed to be simple and versatile, using the familiar Microsoft® Windows® user interface to navigate the software. All of the data generated can be stored, viewed, printed or transferred from the handheld computer to a desktop computer for archiving. Transfers from the handheld computer to desktop are performed through a standard USB port and Microsoft® Windows Mobile Device Center or ActiveSync®. Reports can be generated in imperial or metric units.

For more information, visit the McElroy website at http://www.mcelroy.com/fusion.

100-Word Description for Product Spotlights/Reviews:

The new DataLogger® 4 from McElroy offers the ability to record and document the pipe fusion process. The latest generation of DataLogger is smaller in size, has a rechargeable internal battery, double the screen resolution of previous DataLoggers, and a pressure sensor with a 0 to 3,000 PSI pressure range. The DataLogger 4 should have worldwide appeal, with multilingual support and recognition of many international fusion standards. The new FusionGuide(TM) feature gives a faster "go/no-go" interpretation of graphs generated by the DataLogger. Trained inspectors can look at the FusionGuide data to determine if a fusion joint was fused with correct pressures and times according to supported standards. For more information or to find a distributor, visit http://www.mcelroy.com/fusion.

About Pipe Fusion:

Pipe fusion, also known as butt fusion, is a widely accepted process that joins two pieces of thermoplastic pipe together with heat and pressure. Commonly associated with high-density polyethylene pipe (HDPE), the butt fusion process starts by "facing" or shaving the pipe ends simultaneously so that they can be joined together with heat to create a continuous, sealed pipeline. The welding of the pipes is accomplished by using a hot plate in contact with the pipe ends, which heats the plastic to a molten state. Then, after its removal, the ends are pressed together under a controlled force to form a weld that is stronger than the pipe itself. Third-party industry research indi¬cates that HDPE pipe and joints can have a lifespan of more than 100 years.

Important Links:

McElroy on YouTube: http://www.mcelroy.com/youtube

McElroy on Twitter: http://www.twitter.com/McElroyFusion

McElroy on Facebook: http://www.mcelroy.com/facebook

More from Optics & Photonics