Data Logger records illuminance, UV light, temp, humidity.
Press Release Summary: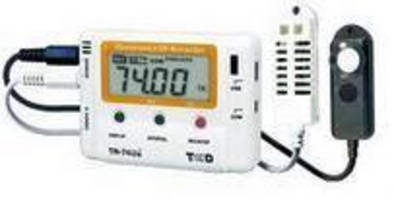 Able to simultaneously measure and record illuminance, UV light, temperature, and humidity, TR-74Ui Illuminance UV Recorder can also display cumulative illuminance and cumulative UV light on LCD. All-in-one package - data logger unit, sensor, and software - connects to PC via USB and can measure/record up to 8,000 readings per measurement item. Along with 15 recording interval choices, unit offers one-time or endless recording modes.
---
Original Press Release:

Announcing Our New TR-74Ui Data Logger: For Illuminance, Ultraviolet Light, Temperature and Humidity



T&D Corporation is proud to announce that our new "TR-74Ui Illuminance UV Recorder" will be available from January 2010.

The "TR-74Ui Illuminance UV Recorder" can simultaneously measure and record four items: Illuminance, Ultraviolet Light (UV), Temperature and Humidity. In addition to these, the TR-74Ui is also capable of displaying Cumulative Illuminance and Cumulative Amount of Ultraviolet Light in the LCD display.

The product is an all-in-one package that includes the data logger unit, sensor and software. Simply by connecting to a PC via a USB connection and carrying out a few easy steps, the measurement and recording of data can be started.

Features
With just one unit it is possible to measure and record Illuminance, Ultraviolet Light, Temperature and Humidity.
Possible to view Cumulative Illuminance and Cumulative Amount of Ultraviolet Light in the LCD display
Illuminance can be measured within a wide range (from dim moonlight to the summer sun)
View and record Illuminance in resolutions to 0.01 lx.
Possible to measure and record up to 8,000 readings per measurement item.
Simultaneously view all four measurement items in one easy-to -read Graph.
Transmit recorded data to PC via USB connection.

Application Examples
In art museums and other exhibit forums to manage illuminosity and help prevent deterioration of exhibits
Management during all aspects of plant and food production
For use in the development, testing, manufacture and sales of products for cutting UV rays
UV reduction management in schools from kindergartens to universities
For home and office use in the management or illuminosity and UV rays
For managing the reduction of UV rays at swimming pools, the ocean, mountains and in parks.
For management and adjustment of illuminosity for photography and film
For management in the production, storage and sales of foodstuffs and beverages
For use at supermarkets, convenience stores and drugstores in UV product sales promotion materials

Recording Interval: Total of 15 choices: 1,2,5,10,15,20,30 seconds, 1,2,5,10,15,20,30,60, minutes
Recording Capacity: 8000 Readings x 4 channels
Recording Modes: Endless (Overwrite oldest data when capacity is full)
One-time (Stop recording when capacity is full)
Power Source: AA Alkaline Battery x 1
Battery Life (*3): about 6 months
Interface: USB Communication
Weight: About 62 g (including one AA battery)
Operating Environment: Temperature: -10 to 60°C
Humidity: 90% RH or less (no condensation)
Attached Sensors:
THA-3151: Humidity Sensor x 1
ISA-3151: Illuminance and UV Sensor x 1
Accessories included in package: AA Alkaline Battery (LR6) x 1
USB Communication Cable (US-15C) x 1
Introductory Manual (Warranty) x 1
Software Set x 1

*1) when using supplied sensor
*2) when at 25°C and 50%RH
*3) Battery life varies depending upon the type of battery, the measuring environment, the frequency of communication, and the ambient temperature in which it is used.
*4) Approximated to the CIE standard response function V (ë)
*5) Within ±1.5% at 10°; Within ±3%
at 30°; Within ±10% at 60°;
Within ±30% at 80°

Expected Release Date
January 2010

Contact us
For more information, questions or comments about events and news releases please contact our Main Office in Japan:

More from Adhesives & Sealants