Data Logger provides single-phase AC power analysis.
Press Release Summary: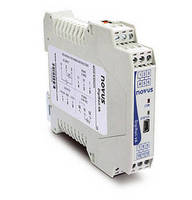 Featuring DIN-rail mounted design, DigiRail-VA measures users' most important AC signals and retransmits them in both analog and digital ways. Unit measures and calculates voltage from 0–300 Vac (True-RMS); current from 0–5 Aac (True-RMS); active, reactive, and apparent power; frequency from 45–65 Hz; and power factor from 0.00–1.00. Equipped with RS485/Modbus-RTU interface as standard, logger allows access to all parameters via any SCADA package or Modbus-capable PLC.
---
Original Press Release:
New Novus DigiRail-VA for Single-Phase AC Power Analysis
Log AC Signals and Transmit Data in Analog and Digital

CHESTERLAND OH – CAS DataLoggers and Novus Automation are jointly announcing the latest addition to the successful and cost-effective DigiRail family—the new DigiRail-VA Single-Phase Power Analysis Datalogger. Specifically designed for single-phase AC power analysis applications, these data loggers measure users' most important AC signals and retransmit them in both analog and digital ways. Competitively priced at $299, the flexible new DigiRail-VA is now available from CAS DataLoggers to support customers that need to measure, record, and analyze AC in many different applications.

The new DigiRail-VA measures and calculates:
• Voltage: 0 to 300 Vac (True-RMS)
• Current: 0 to 5 Aac (True-RMS) – The data logger allows use of CTs for higher-current applications
• Active Power
• Reactive power
• Apparent power
• Frequency: 45 to 65 Hz
• Power Factor: 0.00 to 1.00

This single, compact, DIN rail-mounted unit features RS485 /Modbus-RTU interface as standard (baud rate from 1200 to 115200, configurable parity) allowing easy access to all parameters by any SCADA package or Modbus-capable PLC.

• Analog retransmission (user-selectable 4-20mA and/or 0-10V – all via software; no jumpers)
• Any one of the values can be re-scaled and retransmitted using the on-board analog outputs
• Full 2500 Vrms isolation between the high voltage/current inputs and the low-voltage signals
• Protects your upstream instruments
• High-accuracy measurements
• Accuracy of Voltage, Current & Power readings over RS485 is +/- 0.25% and +/- 0.5% over the Analog Retransmission
• Accuracy of the Frequency and Power Factor readings over RS485 is +/- 0.5% and +/- 1% over the Analog Retransmission (Note that this product is not intended for and should not be used for commercial energy metering applications)
• Wide Ranging 10-40Vdc power supply requiring just 2.5 W, suitable for most standard low-voltage
industrial supplies.

CAS DataLoggers has the most comprehensive selection of data logging equipment available anywhere. We offer hundreds of different models from over 16 manufacturers to satisfy data recording applications in every industry. We have models from 1 to 300 channels recording a wide range of critical parameters including temperature, humidity, force/strain, and pressure, as well as voltage, current, digital signals, serial, CAN/OBD or SDI-12 devices. CAS DataLoggers also offers the Novus FieldLogger, a versatile, powerful and cost-effective industrial data logger which handles analog and digital signals with high resolution and speed along with expansion modules and wireless communication accessories.

We also provide expert engineering services including free technical support, custom programming, custom system design and assembly, and repair and calibration services. Our development capabilities include custom data acquisition and data logging systems, test and measurement systems, and portable data collection systems.

For more information on our Novus data acquisition systems which are deployed in a wide range of temperature and pressure monitoring applications, or to find the ideal solution for your applicationspecific needs, contact a CAS Data Logger Applications Specialist at (800) 956-4437 or visit the website at www.DataLoggerInc.com.



Contact Information:
CAS DataLoggers, Inc.
12628 Chillicothe Road
Chesterland, Ohio 44026
(440) 729-2570
(800) 956-4437
sales@dataloggerinc.com
www.dataloggerinc.com
More from Software