Data and Database Management Software
Data Historian Software offers data-management capabilites.
Press Release Summary: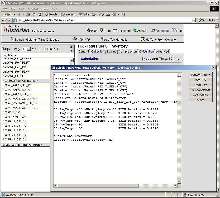 iHistorian® v2.0 plant-wide data historian software includes 2 data collectors that facilitate data management and analysis. Calculation Collector consists of calculation engine that enables users to define calculations using built-in wizard, employ commonly used predefined calculations, or script their own customized calculations. Server-to-Server Collector distributes data from facilitates data distribution and store and forward data recovery.
---
Original Press Release:

New iHistorian® 2.0 from GE Fanuc Increases Data Management, Information Sharing and Efficiency-Enhancing Capabilities


FOXBOROUGH, Mass. - March 7, 2003 - GE Fanuc Automation North America, Inc., an affiliate of GE Industrial Systems, today announced the release of iHistorian® 2.0 - which provides increased data management, information sharing and efficiency-enhancing capabilities. iHistorian 2.0, the latest version of the company's award-winning, plant-wide data historian software, adds two powerful new data collectors. These innovative data collectors accelerate the transformation of raw production data into actionable business information and enable users to share that information throughout their business and its extended supply chain.

"In today's volatile business and economic climate, production data - and the ability to capture, analyze and visualize that data - plays an increasingly important role in a company's success," said Kevin Roach, vice president of GE Fanuc's Global Solutions business. "iHistorian 2.0 allows companies to gain a clear, accurate and detailed snapshot of production processes - which can help to increase efficiency, streamline operations and improve competitive advantage."

Further extending its role as an ideal platform for a plant intelligence information infrastructure, iHistorian 2.0 adds a Calculation Collector and a Server-to-Server Collector to its list of options - both designed to facilitate data management and analysis.

The Calculation Collector is an advanced, yet easy-to-use calculation engine enabling users to quickly define their own calculations using the built-in "Calculation Wizard," employ any of the commonly used predefined calculations bundled with the application or script their own customized calculations. These calculations are then immediately stored within the iHistorian database, both simplifying and accelerating actions such as Key Performance Indicator (KPI) reporting and efficiency analysis.

The Server-to-Server Collector is used to quickly and easily distribute data from one iHistorian server to another, facilitating data distribution and "store and forward" data recovery. This is particularly useful when leveraging an infrastructure where multiple remote historians are collecting, aggregating and calculating data (such as iHistorians at remote facilities) and reporting into a central historian (such as an iHistorian at a corporate headquarters). With the Server-to-Server collector, users can centralize administration of all remote tags and standardize on KPI metrics and reporting standards across multiple locations, thereby helping to streamline processes and reduce variances. The Server-to-Server Collector also enables users to capture full audit trail information - a complete record of "who did what, where and when" within a process - and seamlessly share that data with the central historian. This is a particularly critical feature for businesses operating within regulated industries, such as those under the guidance of the Food and Drug Administration.

Both of the new iHistorian 2.0 collectors include web-based configuration, store-and-forward data recovery, and time- and event-based triggers for data transfer events.

iHistorian 2.0 builds upon the robust performance and tremendous commercial acceptance of the product's initial release, currently used at more than 500 companies, collecting data from millions of sources from around the globe.

About GE Fanuc Automation
GE Fanuc Automation North America, Inc., is a leading global supplier of automation solutions and is a joint venture between GE and FANUC, LTD of Japan. GE Fanuc products and services include collaborative production management, HMI/SCADA and plant intelligence software; nano to high-end controllers; embedded systems; a wide range of CNCs; motion control; operator interfaces; industrial computers; lasers; and a wide range of integration and customer support services. Headquartered in Charlottesville, Va., GE Fanuc is part of GE Industrial Systems. For more information, visit www.gefanuc.com.

About GE Industrial Systems
Since the founding of the General Electric Company by Thomas Edison in 1882, GE Industrial Systems has been known for technical innovation. GE Industrial Systems has over 7,600 U.S. and foreign patents on products that help provide peace of mind for people, the properties they own and their workplaces. In 2001 alone, GE Industrial Systems filed more than 200 U.S. and 340 foreign patent applications.

GE Industrial Systems spans the globe as an industry leader in integrated industrial, electrical and security equipment, systems and services. The business brings to customers the latest technologies that are used to distribute, protect and control energy and equipment, and to provide premise management. GE provides innovative product and service solutions for commercial, industrial, residential and utility customers. For more information visit the website at: www.geindustrial.com.

About GE
The General Electric Company (NYSE: GE) is a diversified technology and services company dedicated to creating products that make life better. From aircraft engines and power generation to financial services, medical imaging television programming and plastics, GE operates in more than 100 countries and employs more than 300,000 people worldwide. For more information, visit the company's Web site at www.ge.com.

For more information, visit gefanucautomation.com/ihistorian or contact: GE Fanuc Information Center, P.O. Box 8106, Charlottesville, VA 22906, Phone: (800) 648-2001, Fax: 434-978-5205, e-mail: gefanuc@gefanuc.com.

iHistorian is a registered trademark of Intellution, Inc. All other trademarks are the property of their respective owners.

More from Electrical Equipment & Systems