Data Collection Terminal features embedded Windows CE.NET OS.
Press Release Summary: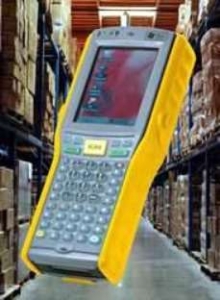 Intel® X-Scale®-based LANpoint Mobile offers real-time, portable data capture in demanding manufacturing and warehousing applications. Vertical, quarter-screen, handheld unit supports range of AutoID technologies, including RFID, barcode, magnetic stripe, and biometrics. It also supports development tools available for rapid applications deployment and device management.
---
Original Press Release:

Intelligent Instrumentation Expands .NET Data Collection Terminal Offering with Handheld - LANpoint Mobile


TUCSON, AZ - March 21, 2005 - Intelligent Instrumentation, a leading manufacturer of rugged networked and wireless data collection terminals designed to improve the performance of supply-chain execution applications, announces the newest addition to their LANpoint family of Windows CE.NET / Intel® X-Scale®-based rugged data collection terminals with the handheld terminal - LANpoint Mobile. This vertical quarter-screen handheld terminal is a rugged and flexible system that offers portable data capture solutions in demanding manufacturing and warehousing applications.

"With the introduction of the LANpoint Mobile handheld terminal, Value Added Resellers, System Integrators and end users can now cover a broad range of applications with just one terminal and handheld vendor. Customers can select one of our vehicle mount terminals for pallet picks and put-aways, use our rugged stationary terminals for shop floor control or production tracking, and then equip their distribution center personnel with our new LANpoint Mobile handheld data collection terminal for 'pick and run' applications," says Paul Liska, Data Collection Product Manager for Intelligent Instrumentation. "Support and training costs are also minimized, because developers have to support only one operating system, and the warehouse workers only have to learn one application 'look and feel' on our devices."

With its embedded Windows CE.NET operating system, customers will have built-in access to Microsoft's .NET Compact framework, with all of its associated tools and management features, which will greatly simplify software application development.

Intelligent Instrumentations exciting new XScale-based LANpoint .NET product line demonstrates Intelligent Instrumentation's commitment to producing leading edge technology for real-time data collection. This new line of rugged data collection terminals will feature Microsoft's® latest CE.NET operating systems, and are designed to support a broad range of AutoID technologies, including RFID, barcode, mag stripe and biometrics. By standardizing the LANpoint data collection vehicle, shop floor and now handheld terminals on Microsoft's proven embedded CE.NET architecture, our products will fully support the newest development tools available for rapid application deployment and device management. This state-of-the-art product line can provide a lower cost of ownership and greater return on investment, and aligns the customer's business with future emerging technologies and applications. Please take the opportunity to explore all the leading-edge data collection solutions provided by Intelligent Instrumentation at www.LANpoint.com.

The LANpoint Mobile devices, application specific add-on accessories, desk and DIN-Rail mountable cradles will be available for shipment in April, 2005. Distribution and support of the LANpoint Mobile handheld terminal will include the USA, Europe and selected ROW countries.

Intelligent Instrumentation's FactoryView® is a family of products interfacing the machines, processes, and operations of an enterprise to data management systems. The company manufactures a complete line of industrial, LAN-ready data collection terminals, automated time and attendance solutions, and RS-232/RS-422 microterminals for data collection and operator interface/control panel applications. Intelligent Instrumentation also manufactures data acquisition, test, measurement and control systems for desktop and portable PCs, including distributed I/O systems for Ethernet and Internet networks. The company has a worldwide network of sales and service offices.

To order, or for additional information, contact Intelligent Instrumentation, Inc.; 3000 E. Valencia Road, Suite 100; Tucson, Arizona 85706. In the USA, telephone (800) 685-9911 (Sales and Information) or fax (520) 573-0522. Outside the USA, telephone (520) 573-0887 or fax (520) 573-0522.
Visit their web site at: http//LANpoint.com; email: sales@lanpoint.com

More from Electrical Equipment & Systems