Data Collection/Analytics Appliance offers actionable information.
Press Release Summary: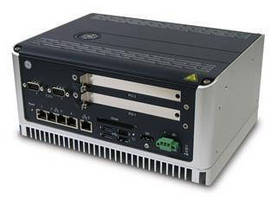 By integrating PACSystems RXi XP and Proficy Historian v5.5, Proficy Historian IPC utilizes Industrial Internet to connect machines and turn data into actionable information. Appliance collects real-time production and process information, while compression algorithms optimize data volume storage capacity on IPC's hard drive without sacrificing data integrity. While standalone capacity handles 100–5,000 data collection points, increased capacity can be met by multiple appliances.
---
Original Press Release:

GE Provides Integrated Data Collection and Analytics Appliance for the Industrial Internet that Turns Raw Data into Actionable Information



Proficy® Historian IPC collects real-time production and process information for quick time to value; provides fully integrated simplicity of a purpose-built unit

High-performance IPC platform enables numerous data collection tags on a small, rugged form ideal for harsh environments

Proficy Historian's patented compression algorithms enable storage of great volumes of data without sacrificing data integrity



CHARLOTTESVILLE, VA — GE Intelligent Platforms (NYSE: GE) today announced the availability of a new solution that utilizes the powerful potential of the Industrial Internet to connect machines and turn masses of raw data into actionable information. An integrated data collection and analytics appliance, Proficy Historian IPC delivers quick time-to-value for collecting real-time production and process information by simplifying purchase and installation. The high-performance IPC platform enables numerous data collection tags on a rugged form factor small enough to install with machine controls in harsh environments. Proficy Historian's patented compression algorithms enable greater volumes of data to be stored on the IPC's hard drive than competitive data historians, without sacrificing the data's integrity.



Proficy Historian IPC is the beginning of a new high-performance breed of combined hardware and software solutions from GE Intelligent Platforms, designed to pave the way to leading-edge performance and the Industrial Internet. The solution integrates a set of proven products— the PACSystems RXi XP, the latest of GE Intelligent Platforms high performance IPCs, and Proficy Historian 5.5 – into a purpose-built unit that is more than the sum of its parts.



"We understand that to get higher efficiency using data from a connected machine, the interface must be easy to implement and use," said Flor Rivas, Product Manager for GE Intelligent Platforms. "With Proficy Historian IPC we've made it simple to step into the future of industrial automation by combining our industry-leading data Historian software with a powerful industrial grade computer. This solution simplifies purchase, speeds implementation, and enables data collection from thousands of inputs on a rugged platform small enough to install at the machine itself."



Proficy Historian IPC scales to meet a broad range of applications, since it has capacity for 100 to 5000 data collection points on a single compact device. Data collection needs exceeding 5000 points can be met by implementing multiple Proficy Historian IPCs connected via a wide area network (WAN) in a distributed data historian configuration, or forwarding to plant or central historian. This solution makes leveraging the power of industrial data easy for a wide variety of users.



1) Simple implementation: The user need not spend valuable time buying the individual products and installing the software. Instead, GE Intelligent Platforms' powerful RXi XP is preinstalled with Microsoft® Windows® 7 operating system, Proficy Historian software, and all necessary drivers. To setup, simply power the IPC and configure the data collection points. Easily add more tags by plugging in the USB dongle supplied with the tag quantity order and reboot to enable the tag licenses.



2) Compact, rugged design: The IPC's smaller, ruggedized design allows Proficy Historian IPC to be installed with the machine controls to save space and reduce wiring complexity, putting power at the point of control. The industrial grade components and fan-less operation minimizes maintenance needs, extending the life span of the machine. The user doesn't sacrifice performance for a smaller platform with this solution.



3) Lifecycle management: COM Express technology is featured in the rugged IPC. Rather than replacing the entire IPC and wiring when the computing power becomes obsolete, the user can exchange the COM Express module for a higher-powered replacement, leaving the rest of the IPC and wiring intact.



"The Industrial Internet is the next industrial revolution, and one of its core principles is monitoring machine performance to maximize profitability," said Rivas. "The Proficy Historian IPC solution is a simple way to transition toward the Industrial Internet since it enables easy collection of equipment data within the plant network to increase performance. "



Related downloads

PACSystems RXi XP



PACSystems RXi XP GE



About GE

GE (NYSE: GE) works on things that matter. The best people and the best technologies taking on the toughest challenges. Finding solutions in energy, health and home, transportation and finance. Building, powering, moving and curing the world. Not just imagining. Doing. GE works. For more information, visit the company's website at www.ge.com.



Media contacts:

Elli Holman

GE Intelligent Platforms, Public Relations Director

Phone: +1 508 698 7456

Mobile: +1 508 298 8306

Email: elli.holman@ge.com

Related