Data and Database Management Software
Data Center provides power quality analysis.
Press Release Summary: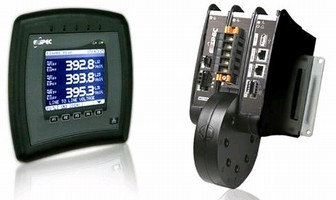 With G4400 Power Quality Data Center, operators can identify all site trends and power events for all-inclusive view of network functionality. Embedded PQZip compression technology, with typical 1,000:1 compress ratio, allows true-time data sampling and provides onboard logging of all measurements at up to 1,024/cycle resolution. Platform interconnects transparently through fast Ethernet and TCP/IP, and embedded web server provides access using standard Internet software.
---
Original Press Release:

Elspec Launches a New Electric Power Quality Analysis Solution: Elspec G4400 Power Quality Data Center, 4th-Generation in Electrical Power Analysis



Elspec, a global leader in electric power quality solutions, announced today the launch of Elspec G4400 Power Quality Data Center, which provides comprehensive solutions for power quality measurement and analysis across all sites in the electrical energy network. Based on the innovative system paradigm, operators can successfully identify all site trends and power events for an all-inclusive view of network functionality. The Elspec G4400 will feature at the world's leading technology fair Hannover Messe 2006 (April 24-28, 2006).

Caesarea, Israel, April 4, 2006 -- Elspec, a global leader in electric power quality solutions, today announced the launch of Elspec G4400 Power Quality Data Center for providing comprehensive solutions for power quality measurement and analysis across all sites in the electrical network. Based on the innovative system paradigm, operators can successfully identify all site trends and power events for an all-inclusive view of network functionality. The embedded PQZip compression technology allows true-time data sampling and yields uncompromised values and trends that are established continuously, regardless of their occurrence during electrical cycles and without setting thresholds. The Elspec G4400 is scheduled for rollout in the second quarter of 2006, and will feature at the world's leading technology fair Hannover Messe 2006 (April 24-28, 2006).

The Elspec G4400 4th Generation Power Quality Data Center is the only solution to definitely identify power quality issues by affording the unprecedented advantage of infinite continuous data logging and storage. PQZip technology voids capacity issues, yielding entirely uncompromised data. This represents a clear advantage when analyzing system power trends and events. The desired outcome of in-depth system analysis is the ability to predict system trends and successfully perform predictive maintenance procedures, ultimately reducing energy costs and constantly supplying enhanced power quality.

"To achieve better electrical power analysis we launched the Elspec G4400 Power Quality Data Center, a solution for complete and accurate analysis which enables one to locate problems and perform corrective actions to prevent problem reoccurrence," explains Yoram Harary, Elspec founder and CEO. "PQZip technology now makes all electrical data transparent. Data can always be utilized, whether it is present data marking an ongoing event, or data that is saved a year plus back. Elspec G4400 gives operators the capability to accurately troubleshoot the source of losses and assist in determining the right solution. Every application sector can benefit by managing energy costs."

The platform interconnects transparently through fast Ethernet and TCP/IP. The embedded web server provides easy access using standard Internet software. PQZip technology, with typical 1000:1 compress ratio, offers:

o 1+ year, every cycle onboard logging of all measurements at up to 1,024/cycle resolution
o No more data compromises for recording speed
o Years of data for every network cycle is recoverable with no data gaps
o Thresholds are no longer needed, no events are missed
o All data parameters are recorded, no need to select measurement parameters
o Multipoint time-synchronized recording provides true snap-shot for any period of time

The Elspec G4400 Power Quality Data Center with integrated PQZip compression technology is competitively priced for today's market.

About Elspec
Elspec develops, produces and markets comprehensive electrical power quality solutions and sophisticated electrical network analysis technologies. Implemented applications spanning the industrial, commercial and utility sectors enhance electrical network quality and increase energy savings using advanced network analysis tools.
The Elspec product family features: Equalizer real-time power quality enhancement system for optimal power quality; Activar power factor correction unit for unlimited transient-free operations; Elspec G4400 4th Generation Power Quality Data Center for optimal power quality using patent-pending PQZip compression technology for selection and endless storage of logged measurement data; PPQ-306 portable power quality analyzer for in-depth site analysis; PQSCADA measurement and analysis software for evaluating complex data in graphical format. For more information visit the Elspec website at www.elspec-ltd.com.

Company Contact:
Amir Broshi
Business Development Manager
Elspec Ltd.
Tel: +972-4-6174-105
Email: abroshi@elspec-ltd.com

More from Electronic Components & Devices