Data Center features modular, scalable design.
Press Release Summary: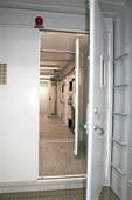 Using pre-engineered factory built modules, T4 Data Campus offers diverse range of configurations, including single or multi-floor levels and Tier 3 or Tier 4 resilience with low power usage effectiveness ratings, alongside free cooling options. Standard design blocks are rated at 250 kW, but other densities are available. Forming working infrastructure, sub-modules include raised floor system, variety of rack options, cable raceway, power distribution, cabling, fire suppression, and lighting.
---
Original Press Release:

Build as You Grow with the T4 Data Campus from Cannon T4 Inc



Cannon T4 Inc, the international leader in innovative containment systems, has introduced an exciting new addition to its T4 Modular Data Center portfolio in the form of the T4 Data Campus. Based on nearly 40 years of innovation, it is a high performance solution that uses pre-engineered factory built modules to facilitate rapid project delivery and world-class levels of operational efficiency.



The T4 Data Campus provides all of the essential elements of a modern high performance data center. Easy to configure, fast to install and designed to minimise disruption, virtually any size can be achieved. A data center can therefore start small and grow cost effectively, according to need.



A diverse range of configurations are possible, including single or multi-floor levels, Tier 3 or Tier 4 resilience with low power usage effectiveness (PUE) ratings, alongside free cooling options. 250kW design blocks are offered as standard, with other power densities also available. Whatever the formation, it will benefit from the use of efficient and compact power solutions, cutting edge infrastructure technology for optimised operation, and a robust and highly secure construction.



The desired T4 Data Campus main modules can be selected from a comprehensive menu that enables the 'pick and mix' construction of data halls, network operation centers, offices, entry systems and people traps, and storage areas. Stair and lift modules, special application modules for security, and a wide array of power and cooling modules are all part of the range.



Similarly, the T4 Data Campus sub-modules form the working infrastructure and are designed to ensure a totally integrated solution. They include a raised floor system, a variety of rack options, cable raceway, free form pockets, within row cooling pockets and UPS, power distribution, cabling, fire suppression and lighting.



Cannon T4 Inc is revered for its industry leading climate control solutions and the T4 Data Campus combines two highly efficient cooling systems to provide optimised PUE. Firstly, the company's Free Cooling Chillers draw maximum benefit from ambient air, reducing run time and saving energy consumption. Secondly, its WithIn Row Cooling (WIRC) units offer close-coupled airflow, negating the need for long ducting runs or large powerful fan systems.



Expansion couldn't be simpler and modules can easily be added without disruption to the existing infrastructure. The addition of power and cooling equipment can boost capacity as the data campus grows, to increase power density or rack volume. What's more, all modules can be controlled and monitored with T4 Data Center Manager software, enabling continuous real time system management that ensures ultimate efficiency under all operating conditions and instant response to demand.



Mark Hirst, head of Cannon T4 Data Center Solutions, commented, 'The level of flexibility offered by the T4 Data Campus sets a new benchmark in modular data center configuration and is perfect for those who want to be able to grow their facility as required. Just as importantly, this can be achieved without compromising on quality, reliability and ease of use, thanks to the cutting edge technology that Cannon T4 Inc is renowned for.'



ABOUT CANNON T4 Inc

With a 36 year pedigree, Cannon T4 Inc. provides T4 Data Center Solutions around the globe - from building complete data centers as turnkey projects up to TIA 942 Tier 4; to suites of intelligent, environmentally managed infrastructure   racks, including cold-aisle cocooning, per-rack access control, video surveillance, intelligent power distribution and UPS. At top turnkey level Cannon designs, supplies, integrates and commissions the IT architecture for military and commercial applications, for mission critical projects. For more information visit: www.cannont4inc.com

More from Material Processing