Data Analysis Software provides test-FEA integration tools.
Press Release Summary: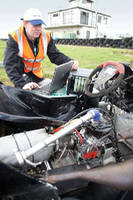 Part of PULSE v16.1, PULSE Reflex Modal Analysis software includes interfaces for importing FE models from FEA programs, such as NASTRAN® and ANSYS®. FEA results are useful for test planning as modes can be animated to indicate frequency range of interest, mode density, and critical modes for test. With PULSE Reflex Correlation Analysis package, users can perform complete visual and numerical correlation analysis of 2 modal models, in terms of natural frequencies and mode shapes.
---
Original Press Release:

Shorten Time-to-Market with Test-FEA Integration



New tools unite structural dynamics testing and simulation

Brüel & Kjær offers advanced test-to-Finite Element Analysis (FEA) tools to help aircraft and vehicle manufacturers speed up their time-to-market process. As manufacturers face increasing demands for lighter, stronger and safer constructions; less fuel and power consumption; greater comfort and better performance, this places a big demand on their test and simulation models to accurately predict structural properties and behaviours.

Brüel & Kjær's advanced test-FEA integration tools allow manufacturers to speed up their time-to-market process by optimising strategies for testing physical models and improving the development of FE models.

As part of Brüel & Kjær's latest data analysis platform - PULSE 16.1 - the PULSE Reflex Modal Analysis software has been enhanced with FE interfaces for importing FE models from various leading FEA programs, such as NASTRAN® and ANSYS® - or as UFF files.

The FEA results are useful for test planning, as the modes can be animated to indicate frequency range of interest, mode density and critical modes for the modal test. These animations also help users choose optimal excitation and response locations for the modal test.

A new PULSE Reflex Correlation Analysis package for test and FE model correlation is also available. The software allows users to perform a complete visual and numerical correlation analysis of two modal models, in terms of natural frequencies and mode shapes (MAC and Orthogonality), thus validating the theoretical model.

Accurate correlation is quickly obtained by following an intuitive, yet flexible workflow process that guides the user efficiently through geometry alignment, DOF mapping, vector comparison, mode pairing and reporting.

More information about Brüel & Kjær's PULSE 16.1 system is available at: www.bksv.com/Products/PULSEAnalyzerPlatform/LatestPULSEVersion.aspx

About Brüel & Kjær

Brüel & Kjær is a world-leading manufacturer and supplier of sound and vibration measurement systems. Brüel & Kjær helps its customers measure and manage the quality of sound and vibration in their products and in the environment. Focus areas are aerospace, space, defence, automotive, ground transportation, airport environment, urban environment, telecom, and audio.

Brüel & Kjær has an unparalleled portfolio of sound and vibration equipment, and is a renowned deliverer of innovative instrumentation, including sound level meters, microphones, accelerometers, conditioning amplifiers, calibrators, noise and vibration analysers and software. To see the full range of products and systems, please visit www.bksv.com

Brüel & Kjær also runs a variety of training courses, from basic introductions to noise and it's effects to more specialised classes teaching customers how to get the most out of their equipment. Free, online training courses - conducted by our expert engineers - run throughout the year too. For all course registration details visit www.bksv.com/courses

Brüel & Kjær is a subsidiary of UK-based Spectris plc (www.spectris.com) which has annual sales of £1.1bn and employs around 7,500 people worldwide across its four business segments