Data Acquisition System features bridge measurement tool.
Press Release Summary: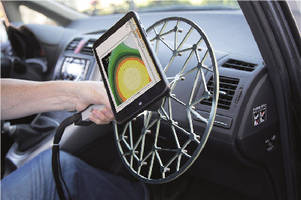 Available for PULSE 20 data acquisition system, LAN-XI Module Type 3057 performs dynamic measurements with bridge-type accelerometers and pressure sensors. Module supports strain gauge bridges and adapts to support virtually any type of transducer. It contains built-in half-bridge and quarter-bridge completion as well as shunt calibration. Built-in bridge excitation supply can be configured as 0–10 V constant voltage source with optional remote sensing or as 0–25 mA constant current source.
---
Original Press Release:

Multiple New Measurement Tools Now Available with PULSE 20



DENMARK, – Brüel & Kjær's latest version of its data acquisition and analysis system - PULSE 20 - has a host of upgrades, including a versatile bridge measurement tool for industries ranging from aerospace and defence to industrial and automotive.



Primarily used by aerospace and defence engineers, to perform dynamic measurements with bridge-type accelerometers and pressure sensors, the LAN-XI module Type 3057 adapts to support virtually any type of transducer, making it ideal for many applications, such as automotive Noise Vibration Harshness (NVH) measurements on brake pedal force or brake calibre pressure.



The module supports strain gauge bridges, contains built in half-bridge and quarter bridge completion – and shunt calibration. It also contains a built in bridge excitation supply which can be configured either as a 0 – 10 V constant voltage source with optional remote sensing or as a 0 – 25 mA constant current source. In addition, the module supports Constant Current Line Drive (CCLD) transducers which are ideal for general vibration measurements such as automotive parts, aircraft and industrial machinery.



Another new tool is the PULSE Reflex Acoustic Camera, which provides a complete system for stationary and non-stationary measurements. The camera is easy to set up - even for non-experts - providing noise source identification, troubleshooting and leak detection, as well as buzz, squeak and rattle detection in vehicle cabins.



More information about PULSE 20 is available on the Brüel & Kjær's website: http://www.bksv.com/Home/NewsEvents/News/pulse-20.aspx?src=fnt.



About Brüel & Kjær

Brüel & Kjær helps solve sound and vibration challenges, and develops advanced technology for measuring and managing sound and vibration.



As a specialist in this domain, the company helps customers ensure component quality, enhance product performance and monitor operational compliance.



Over more than 70 years, many of Brüel & Kjær's research and development people have become recognized global experts, who aid the scientific community and teach at renowned centres.



The application of experience and technology promotes quality and efficiency at every stage of a product's life cycle: design, development, manufacture, deployment and operation.



Through mastering sound and vibration, Brüel & Kjær helps to accelerate business growth and improves environmental quality.



More information about Brüel & Kjær is available at: www.bksv.com.



Brüel & Kjær is a subsidiary of UK-based Spectris plc (www.spectris.com) which has annual sales of £1.1bn and employs around 7,500 people worldwide across its four business segments.



For additional information please contact:

Heather Wilkins

Marketing Coordinator

Bruel & Kjaer

Telephone: 01223 389 800

Web: www.bksv.com

Email: heather.wilkins@bksv.com

More from Laboratory and Research Supplies and Equipment