Data Acquisition Plug-In enables precise camera synchroniaztion.
Press Release Summary: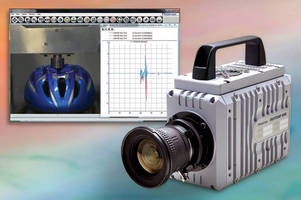 Offered as optional plug-in, Photron Fastcam Viewer (PFV) synchronizes Photron high-speed cameras with NI USB-6251 BNC DAQ module from National Instruments™. Solution is controlled via software and enables simultaneous recording and playback of analog data synchronized with high-speed video sequences recorded at frame rates from 60 fps to 1.5 million fps. Detailed account of events is given, and Level Detection Triggering allows reliable capture of unpredictable/intermittent events.
---
Original Press Release:

New Photron Data Acquisition (DAQ) Plug-In



• New, optional device synchronizes Photron's slow motion cameras with National Instruments™ data acquisition module.



San Diego, CA – Photron, Inc., a global leader and manufacturer of high speed cameras and image analysis software, announces the availability of a new, optional Photron Fastcam Viewer (PFV) plug-in that provides synchronization of Photron's high speed cameras with the NI USB-6251 BNC data acquisition module from National Instruments™.



According to Andrew Bridges, Photron's director of sales, "We are very excited to announce this new optional capability to synchronize our slow motion cameras with National Instrument's best-selling M Series integrated BNC Data Acquisition module.  We are also delighted to provide the NI DAQ plug-in free of charge to our customers who order the option before March 31, 2013."

The NI USB-6251 BNC data acquisition module provides eight differential analog channels (16 single ended) with an aggregate one million samples-per-second, single-channel data rate.  For more information on the NI USB-6251 module, go to: http://sine.ni.com/nips/cds/view/p/lang/en/nid/209149.



The optional plug-in is controlled via Photron's PFV camera control software, and enables simultaneous recording and playback of analog data that is very precisely synchronized with high speed video sequences recorded with Photron cameras at frame rates from 60 to 1.5 million frames per second (fps).  Importantly, it provides users with a detailed account of exactly what occurred, and why.



The most unique and valuable plug-in feature is "Level Detection Triggering".  This enables the system to monitor data acquisition signals from an event and automatically trigger the high speed camera to start or stop recording images when levels exceed user pre-set reference values.  This important feature allows the reliable capture of unpredictable and intermittent events.  For more information, please visit:  www.photron.com/index.php?cmd=product_general&product_id=38.



Photron, Inc. (USA) (www.photron.com) is a leading worldwide manufacturer and supplier of digital high speed cameras, including the world's fastest mega pixel video systems. High speed imaging products range from low-cost solutions to highly specialized, intensified systems for biofluorescence and combustion analysis.  High speed, slow motion cameras featuring high definition (HD) resolution up to 2,000 frames per second are available for motion picture, reality TV, sports, and broadcast applications.  For production fault-finding, Photron offers high speed imaging systems with multiple miniature cube or pencil camera heads.  For extreme or hostile environments, such as vehicle crash testing and/or military weapons proving, Photron's high-G rated camera systems are utilized. Cameras include standard and custom, high-resolution, high-speed imagers, software, and systems to meet R&D, automotive, commercial, medical, and defense-related motion image analysis requirements.



PHOTRON, INC.

9520 Padgett Street, Suite 110

San Diego, CA  92126-4446

                                                       

Contact: Andrew Bridges, Director, Sales & Marketing 

Phone: 800-585-2129 / 858-395-8618

Fax: 858-684-3558

Email: abridges@photron.com

Web Site: www.photron.com



Marlene D. Moore

Advertising • Marketing • Public Relations – for Advanced Technologies

818-708-1704 / Fax: 818-344-7179

Cell: 818-512-6090

marlene@smithmillermoore.com

More from Test & Measurement