Data Acquisition/Control System automates industrial controls.
Press Release Summary: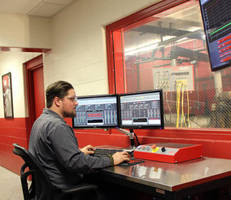 Able to connect to any 0–10 V, 4–20 mA, or frequency output device, DynPro2 allows integration of room temperature, lights, safety interlocks and more into overall testing process. Centralized solution enables control of all applications within facility and offers graphical/numeric data analysis views as well as customizable reporting and processing. Other features include programmable channel alarms and closed loop control with Proportional, Integral, and Differential (PID) tuning.
---
Original Press Release:

Taylor Dynamometer Launches its State-of-the-Art DynPro2 Data Acquisition and Control System!



Milwaukee, WI – Taylor Dynamometer announced today the launch of its state-of-the-art, DynPro2 data acquisition and control system.  DynPro2 is simple to use but flexible enough for the most rigorous applications.  DynPro2 can automate the industrial controls for a room, test cell, even your entire test cell facility, allowing you to integrate room temperature, lights, safety interlocks and much more into your overall testing process.



DynPro2 offers users the following features and benefits:



• Control all applications within your facility including engine, chassis, hydraulic components, other closed loop control and data acquisition and control applications

• Start testing in just 3 clicks with the quick operation setup feature

• Manage all your testing information in one convenient, centralized location

• Analyze data both graphically and numerically

• Customizable reporting and processing functionality

• Programmable channel alarms and intelligent safety features

• Closed loop control with simple Proportional, Integral and Differential (PID) tuning



"DynPro2 represents a significant milestone for Taylor Dynamometer in our continuous efforts to help companies get greater performance, durability and return on investment out of their testing equipment," said Art Downey, President, Taylor Dynamometer. "With DynPro2 we have set a new benchmark in data acquisition and control systems with technology that was developed through a collaboration of valuable customer feedback and in-house expertise. Our customers will benefit from all the features and capabilities that DynPro2 has to offer."



DynPro2 is easy to use and requires minimal training.  The system is adaptable to meet your testing requirements and no programming experience is needed to configure the system. Standard Electronic Control Module (ECM) databases are available and can easily be modified to accommodate your proprietary ECM data.



DynPro2 offers a public Application Programmer's Interface (API), so you can integrate data, system controls and other software packages or products that you already use (e.g., National Instruments® LabVIEW, etc.) DynPro2 can be connected to any 0-10 volt, 4-20 ma, or frequency output device and is capable of communicating with almost any serial, CAN, USB, or Ethernet interfaced device.



For additional DynPro2 information download the overview brochure: http://www.taylordyno.com/wp-content/uploads/2015/03/SMS6011v002-DynPro2-Brochure.pdf, contact your local Taylor Dynamometer Regional Business Consultant or call +1 (414) 755-0040.



About Taylor Dynamometer

Taylor's comprehensive product offering along with a unique blend of product knowledge and clear understanding of application environments ensure that customers get the most out of their equipment over its entire life cycle through superior performance, enhanced flexibility and higher return on investment. Taylor Dynamometer – Everything you need to succeed www.taylordyno.com.

More from Electrical Equipment & Systems