Industrial / Specific Purpose Computers
Data Acquisition Card is suited for image capture.
Press Release Summary: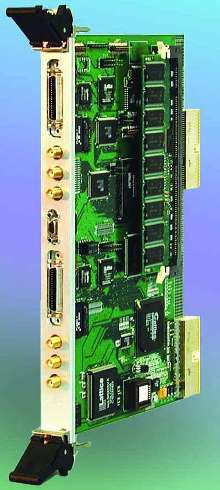 Model PI-41000 offers twin, software configurable, 100 MHz inputs that can acquire digital data at rates up to 400 MBps. CompactPCI® instrument card has on-board memory of 128-512 MB. With optional 4:1 multiplexer cards, one PI-41000 can acquire up to 8 digital channels. Suited for synchronous data capture and testing imaging devices, unit offers continuous acquisition at full frame rate without any dropouts or missed frames and acquires data from arrays up to 8K x 8K or larger.
---
Original Press Release:

Pulse Instruments' New Digital Data Acquisition Card for Image Capture


Torrance, CA - February 13, 2003 - Pulse Instruments announces their newest digital data acquisition product, the PI-41000 Digital Acquisition Card. It is designed primarily for image capture and features twin 100 MHz inputs that can acquire digital data at rates up to 400 MBps. Software configurable, these inputs provide one 32-bit channel or two 16-bit channels. This CompactPCI® instrument card has a large on-board memory of 128 - 512 MB. Multiple cards can be used in a system to increase data rates and capacity. With optional 4:1 multiplexer cards, a single PI-41000 can acquire up to 8 digital channels, and systems can be built to handle up to 32 channels.

Pulse Instruments' digital acquisition products are ideal for synchronous data capture and for testing imaging devices. The large on-board memory effectively de-couples the data acquisition from the CompactPCI bus, enabling data acquisition at rates far higher than CompactPCI can handle directly. The PI-41000 features continuous acquisition at full frame rate without any dropouts or missed frames. The frame, line, and pixel timing signals each have an associated counter. These counters are used to define an area of interest (AOI) on the device, reducing data storage and bandwidth requirements when only a subsection of the device needs to be imaged. The PI-41000 can acquire data from arrays up to 8K x 8K or larger, limited only by on-board memory. The card requires no inter-frame blanking, allowing for acquisition from devices with rolling readouts. The included software will "stitch" data from multiple channels into a single image and demosaic data from Bayer color sensors.

Pulse Instruments has developed equipment and systems for imager testing since 1975. Pulse Instruments' high-performance designs and product flexibility continue to set new standards for R &D characterization and production testing in the imaging industry. For further information, please visit http://www.pulseinstruments.com/acquisition

More from Material Processing