Data and Database Management Software
DAQ Software optimizes trending and file handling.
Press Release Summary: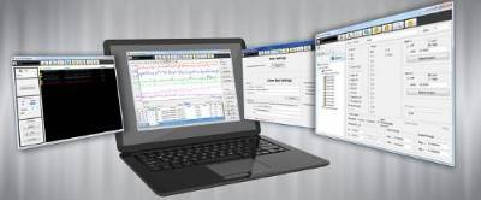 In addition to configuration, Fluke® DAQ 6.0 facilitates data logging and analysis for variety of Fluke data acquisition systems. Program offers optimized trending with up to 32 trends visible on 1 graph and ability to save and load historical charts as well as add new chart formats. Data can be extracted from any portion of historical chart data and saved to .csv file format. With Web interface, users can display trend charts and alarm screens in Web browser to share with up to 4 remote users.
---
Original Press Release:

New Fluke DAQ 6.0 Provides Effortless Configuration, Data Logging, and Analysis for Fluke Instruments



Updated version of the popular application software improves trending and file handling



EVERETT, Wash. – Fluke Corp. introduces Fluke(®) DAQ 6.0, the latest version of its popular data acquisition application software. The powerful and versatile application provides effortless configuration, data logging, and analysis for the 2640A and 2645A NetDAQ Networked Data Acquisition Unit and 2680 Series Data Acquisition Systems, plus adds support for Fluke 2638A Hydra Series III Data Acquisition System/Digital Multimeter and Fluke Calibration 1586A Super-DAQ Precision Temperature Scanner.



With DAQ 6.0, setting up an instrument is as easy as connecting it to the technician's computer -- the current hardware configuration pre-populates the configuration set-up area, which can then be easily edited if necessary. The simple copy-and-paste feature makes quick work of setting up multiple channels with similar input.



Version 6.0 features improved trending with up to 32 trends visible on one graph and the ability to save and load historical charts as well as add new chart formats. Data can be extracted from any portion of the historical chart data and saved to a .csv file format.



The new DAQ application adds a new Web interface and controls, which allow users to display trend charts and alarm screens in a Web browser to share with up to four remote users. Instrument scanning can be started and stopped remotely from the Web view screen in a browser using one of the four thin Web clients within Fluke DAQ. The new version also adds the capability to print trend charts and alarm status information from a local PC or the Fluke DAQ Web view, and supports multiple languages, including English, Spanish, Swedish, Russian, Korean, Japanese, Italian, German, French, and Chinese.



Fluke DAQ 6.0 Application Software is available now. To learn more, visit www.flukecal.com/daq6.



For information on Fluke tools and applications, or to find the location of your nearest distributor, contact Fluke Corporation, P.O. Box 9090, Everett, WA USA 98206, call (800) 44-FLUKE (800-443-5853), fax (425) 446-5116, e-mail fluke-info@fluke.com or visit the Fluke Web site at http://www.fluke.com.



About Fluke

Founded in 1948, Fluke Corporation is the world leader in compact, professional electronic test tools. Fluke customers are technicians, engineers, electricians, and metrologists who install, troubleshoot and manage industrial, electrical and electronic equipment and calibration processes.



Fluke is a registered trademark of Fluke Corporation. The names of actual companies and products mentioned herein may be the trademarks of their respective owners. For more information, visit the Fluke website.



For more information:

Leah Friberg

Public Relations Manager

(425) 446-5905

leah.friberg@fluke.com

More from Fluid & Gas Flow Equipment