DAQ Recorder suits operational and flight test applications.
Press Release Summary: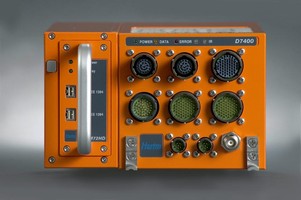 With up to 256 Mbit/s total system data rate, Model D7000 Airborne DAQ and recording system employs media from interchangeable cartridges, allowing users to choose and load hard drive or solid state media. Integral IRIG time code generator allows unit to synchronize with external IRIG and GPS time sources to provide high accuracy time tagging of recorded data. System also has GigE data download capability and holds up to 4 multi-channel signal interface cards in single unit.
---
Original Press Release:

Heim Data Systems Introduces the D7000



Airborne Data Acquisition and Recording System

Heim Data Systems, Inc., a leading supplier of data acquisition equipment, introduces the new D7000, designed for a wide range of operational and flight test applications. Featuring adaptable signal interfacing and interchangeable media cartridges, the D7000 provides a highly flexible avionics data acquisition and recording platform in a very compact package. With a rugged mechanical design for harsh environments, the compact external dimensions and configurable connector interfaces of the D7000 are designed to allow direct replacement of legacy video and data recorders.

With up to 256 Mbit/s total system data rate, this recording system employs media contained in interchangeable cartridges, allowing the user to quickly choose and load either rugged hard drive or solid state media at any time during the life of the equipment. The packet recording format ensures accurate data time tagging and consistent channel-to-channel phase relationships. These systems are compatible with both Heim Data format and the IRIG106 Chapter 10 standard, including a compliant IEEE-1394b data download interface on the media cartridge. The D7000 mainframe also has GigE data download capability and the media SCSI interface provides a high-speed output to other Heim data download and analog replay systems that are fitted with media cartridge receivers.

Complete with an integral IRIG time code generator, the D7000 Series can also synchronize to external IRIG and GPS time sources to provide sustained high accuracy time tagging of recorded data. D7000 can optionally be fitted with an integral GPS receiver, integrating time reception, distribution and data time tagging into a single package. The media cartridge can also be fitted with an integrated clock that allows laboratory based time references to be automatically transferred to the recorder each time a cartridge is loaded.

The mainframe holds up to 4 multi-channel signal interface cards in any combination, providing a wide selection of interfacing, including concurrent recording of multiple video, PCM and MIL-STD-1553 bus sources in a single unit. The user has access to configuration and control functions through integral serial, network and discrete contact interfaces.

The D7000 also features an additional power connector, so the unit can be powered from ground support equipment without disturbing the flight power connectors. The D7000 military style connectors are all front mounted and can be supplied in a generic configuration or with specific custom connector types and pin-out connector, so the unit can be powered from ground This enables direct form-fit replacement of both legacy video recorder and avionics data acquisition systems with an economical single box solution. Such replacement offers significantly increased functionality, increased channel capacity, a wider choice of channel interface types, higher data rates, compliance with IRIG106 Chapter 10 and enhanced management and correlation of the data during analysis.

About Heim Data Systems

Heim Data Systems, Inc., a leading supplier of data acquisition equipment, distributes and supports a wide range of industrial, mobile, portable, airborne and laboratory data acquisition systems. These systems provide high quality, off-the-shelf solutions for stand-alone and computer integrated operation, suitable for flight test, range telemetry and general industrial data acquisition.

The company has supplied data acquisition systems to the US Navy, Air Force and Army for test range and operational applications. Heim Data Systems, Inc. has also equipped the automotive and aerospace industries, including Boeing, Lockheed Martin, Ford, Chrysler and General Motors.

Heim Data Systems, Inc. is part of the Zodiac organization, a global company with interests in the aerospace, marine, telecommunications, electronics and information technology markets.

For more information on Heim Data System's complete product line, contact:
Ginny Decker
Heim Data Systems, Inc.
Telephone (732) 556-2318
fax (732) 556-2319
email marketing@heimdata.com
visit www.heimdata.com

More from Fasteners & Hardware