DAQ Modules offer simultaneous sampling.
Press Release Summary: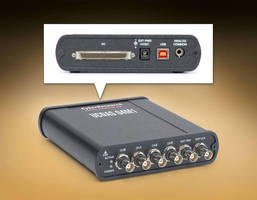 CyberResearch® multifunction UCDAS 04M1 modules feature 4 differential analog inputs running at speeds up to 1.3 MHz, while UCDAS 02M2 units have 2 inputs running at up to 2 MHz. Both USB DAQ modules include 32 DIO lines and 2 x 32-bit counters running at up to 20 MHz. If more than 4 inputs are needed, multiple modules can be synchronized via external trigger or clock connectors. Rugged, compact modules provide 2 ns skew and suit transient analysis and other high-frequency applications.
---
Original Press Release:

Simultaneous Sampling at MegaHertz Speeds



New CyberResearch® multifunction UCDAS 04M1 and 02M2 USB data-acquisition modules are ideal for transient analysis and other high-frequency applications. These rugged compact modules combine the best price/performance ratio we've ever seen with megaHertz sampling rates and an unheard-of 2-nsec skew.

Both of the new UCDAS analog-input modules from CyberResearch, Inc. come with 32 DIO lines and two 32-bit counters that run at speeds up to 20 MHz. UCDAS 04M1 models have four differential analog inputs that run at speeds up to 1.3 MHz, and the UCDAS 02M2 models have two differential analog inputs running at speeds up to 2 MHz. If you need more than four inputs, you can synchronize multiple modules via external trigger or external clock connectors. UCDAS 04M1DA and 02M2DA models add two analog outputs.

In addition to transient analysis, these modules are recommended for:

o Simultaneous sampling in phase-sensitive applications

o Sensitive modal analysis and high throughput requirements

o Synchronized stimulus/response measurements

In addition to these megaHertz simultaneous-sampling A/D modules - now shipping from stock from $1995 - CyberResearch, Inc., also offers rugged industrial PCs and monitors, as well as CPU cards, and data acquisition. For more information, call Joe Tetreault at 800-341-2525, or visit

www.cyberresearch.com/ucdas.

CyberResearch® is a registered trademark of CyberResearch, Inc. All other trademarks used herein are the property of their respective holders.

To request a free copy of the PC Systems Handbook for Scientists and Engineers, call 1-800-341-2525 or e-mail handbook@cyberresearch.com. Outside of the U.S. please call 203-483-8815 or fax 203-483-9024.


More from Agricultural & Farming Products