DAQ Device suits portable sensor applications.
Press Release Summary: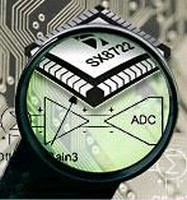 Featuring programmable gain from 0.5-1,000x in 10% steps, Model SX8722 interfaces with most Wheatstone bridge chemical, pressure, or magnetic sensors to condition and read data. ZoomingADC(TM) 16-bit analog/digital converter with 10-bit preamplifier allows device to zoom in on small portion of analog signal and apply full 16-bit ADC to that part of signal. With this capability, Model SX8722 can directly connect to sensors ranging from 5 V chemical to 2 mV magnetic without external amplifier.
---
Original Press Release:

New Semtech Data Acquisition Device Features High Gain for Portable Sensor Applications



SX8722 features Semtech's proprietary ZoomingADC(TM) preamplifier which allows users to achieve high performance functionality using low cost sensors

Camarillo, California - November 15, 2006

Semtech Corp. (Nasdaq: SMTC), a leading supplier of analog and mixed-signal semiconductors for communications, portable devices, computers, and industrial equipment, introduces the SX8722, a complete, high-resolution data acquisition device for micro-electromechanical systems (MEMS) sensors used in portable industrial and consumer sensing applications.

The new product makes its debut at Electronica 2006, which runs from Nov. 14-17 in Munich, Germany, where Semtech is exhibiting in stand #A4-259. The new device is part of Semtech's ZoomingADC(TM) sensing machine product family.

The SX8722 interfaces with most Wheatstone bridge chemical, pressure or magnetic sensors to condition and read data. The device features Semtech's ZoomingADC, a 16-bit analog/digital converter (ADC) with a 10-bit preamplifier to allow the device to "zoom in" on a small portion of the analog signal and apply the full 16-bit ADC to that part of the signal.

With this capability, the SX8722 can directly connect to a wide array of sensors ranging from 5V chemical to 2 mV magnetic sensors without the need for an external amplifier. A built-in input multiplexer means the SX8722 can measure up to four differential sensors, seven single-ended sensors or a combination thereof.

The 1000-times gain of the preamplifier also gives designers the freedom to achieve a given level of sensitivity using a less sensitive, and usually lower cost, sensor. For example the ZoomingADC can enhance the signal from a 5 pounds per square inch (PSI) breath sensor to deliver the 0.5 PSI sensitivity needed for a breath analyzer application - saving cost and board space.

"We've developed the SX8722 as a standard product with the features and software necessary for it to be dropped into an application and work without additional development," said Michel Chevroulet, Sensing Product Group Manager for Semtech's Wireless and Sensing Products Business Unit. "But the ZoomingADC feature gives our customers the best of both worlds because they also get a level of programmability that makes the device equally suited to the cost-sensitive standalone product as well as the broad-based sensor product lines that need to accommodate thousands of different sensors for niche applications."

The low-power SX8722 is optimized for battery applications with two power-saving shutdown modes and a power supply range of 2.4V to 5.5V. The SX8722's 7mm x 7mm leadless package is well suited for portable consumer (compass or altimeter) or industrial applications.

It is a complete data acquisition solution that includes embedded software for basic data acquisition functions for fast development of sensor solutions. For more advanced functionality, the SX8722 features a 2-wire I2C serial bus for connection to a general-purpose microcontroller. The device also features programmable high and low threshold alarm outputs enabling it to work without an MCU in standalone sensor devices and be able to trigger an LED to indicate an alarm condition.

Key Features of the SX8722
ZoomingADC 16-bit ADC + 10 bits preamplifier for up to 1000 gain
Programmable gain: 0.5x to 1000x in 10% steps
Sensor offset compensation up to 15 times full scale of input signal
I2C compatible connection to application
RC and 32kHz oscillators
Sleep and shutdown modes
Serial connections for MCU (I2C) and EEPROM
Interfaces directly with most Wheatstone bridge sensors
Can read most voltage generating sensors with reference
On-chip filtering for noisy applications

Pricing and Availability
The SX8722 is available immediately in production quantities with the ordering code of SX8722IOxxLF. Semtech offers comprehensive design assistance, including field- and factory-based support. Data sheets, volume pricing and delivery quotes, as well as evaluation kits and samples, are available by contacting salesinfo@semtech.com.

About Semtech
Semtech Corporation is a leading supplier of high-quality analog and mixed-signal semiconductor products. The company is dedicated to providing customers with proprietary solutions and breakthrough technology in power management, protection, advanced communications, human interface, test & measurement, and wireless connectivity products. Publicly traded since 1967, Semtech is listed on the NASDAQ National Market under the symbol SMTC. For more information, contact Semtech Corp. at 200 Flynn Road, Camarillo, CA 93012-8790; phone (805) 498-2111; email to info@semtech.com; or visit its web site at www.semtech.com.

Terry Sears, Marketing Communications Manager, Telephone: 805.498.2111

More from Materials