Gas and Chemical Sensors / Detectors
Danfoss to Showcase Position as Complete System Provider at 2019 IIAR Natural Refrigeration Expo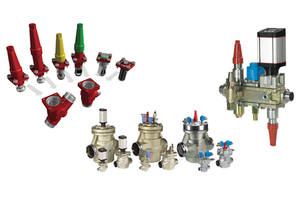 At the 2019 IIAR Natural Refrigeration Expo—March 4–6, 2019, Danfoss will highlight its broad range of components and customized solutions that have established the company as the industrial refrigeration industry's premier complete system provider.

The Danfoss components on display at Booth 529 ensure refrigeration systems perform more intelligently, with increased safety, and at a lower cost, guaranteeing success as the latest trends impact the industry.
Danfoss acquisition of AAIM Controls, Inc. means more intelligent control and automation
In November 2018, Danfoss acquired AAIM Controls Inc. (Waynesboro, Pennsylvania), a specialized supplier of custom-designed regulation and control automation solutions, from motor starters to complete PLC systems. Through this investment, Danfoss strengthens its unique position as a complete systems solutions provider, offering customers intelligent control and automation that increase energy efficiency, ensure food safety, and help refrigeration systems transition to alternative, climate-friendly refrigerants.
During the Expo, Art Marshall, Director of Danfoss/AAIM Controls, will discuss our expanded system control capabilities during technomercial #11 on Tuesday, March 5 from 12:00–12:30 pm.
Additionally, Danfoss will introduce the Intelligent Purger System (IPS), a smart air purger that automatically purges non-condensables from industrial refrigeration systems. The IPS features a standalone parallel refrigeration condensing unit that eliminates the need for multiple ammonia line connections, minimizing installation costs and potential for ammonia leaks.
Every Danfoss IPS comes with standard smart electronic controls for multi-point purging with operational data logging, self-diagnostics, and can be easily connected and integrated into central control systems.
Safety first
Danfoss' digital gas detectors and sensors are precalibrated to match specific refrigerants, applications, and safety requirements, ensuring a safe and regulation-compliant system.
With a comprehensive set of safety features, Danfoss digital gas detectors offer improved accuracy, simplified operator handling, automatic self-diagnostics, password protected alarms, and a smart calibration process that rejects sensors with low life expectancy. Collectively, these features minimize risks based on system settings, calibration, and service errors for continuous safety.
Lower life-cycle and operational cost
The Danfoss Flexline™ platform delivers lower life-cycle costs and reduced emissions derived from leaks. Due to its cost-effective modular design—enabling the function of any valve to be changed by simply swapping out the insert—and carefully engineered valve ports, Danfoss' Flexline™ valves offer easy selection, installation, and maintenance.
With Flexline™, system needs are guaranteed with a reliable, safe and cost-effective solution, now and in the future.
Seeking solutions that fit your system
Finding the components best suited for any refrigeration system is simple with Coolselector®2.
Coolselector®2 is software that uses unbiased calculations to provide suggestions for components, enabling users to choose the best-suited components for their system based on parameters such as cooling capacity, refrigerant, evaporation and condensation temperature, and more.
Visit Danfoss at Booth 529 at the 2019 IIAR Natural Refrigeration Expo to see the trusted components and solutions that keep high-performing refrigeration systems reliable, efficient, and future-proof in the evolving industrial refrigeration industry.
Media contact:
Lisa Tryson, Director, Corporate Communications & PR – Email: LisaTryson@Danfoss.com, Phone: +1 410 513 1142
Related link: https://www.danfoss.com/en-us/markets/refrigeration-and-air-conditioning/dcs/industrial-refrigeration/
Danfoss engineers advanced technologies that enable us to build a better, smarter and more efficient tomorrow.  In the world's growing cities, we ensure the supply of fresh food and optimal comfort in our homes and offices, while meeting the need for energy-efficient infrastructure, connected systems and integrated renewable energy. Our solutions are used in areas such as refrigeration, air conditioning, heating, motor control and mobile machinery. Our innovative engineering dates back to 1933 and today Danfoss holds market-leading positions, employing 27,000 and serving customers in more than 100 countries. We are privately held by the founding family. Read more about us at www.danfoss.com.
More from Communication Systems & Equipment