Danfoss's digital HVACR service tool saves time in the field.
Press Release Summary: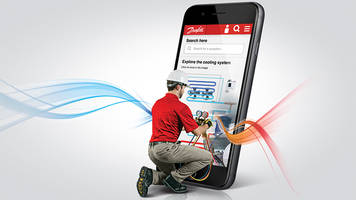 Danfoss's HVACR tool uses a keyword search to help on-site technicians and contractors troubleshoot issues quickly. Users can look for potential problems in the cooling system using the tool's interface. Instructions for the digital HVACR tool can also be accessed from a mobile device.
---
Original Press Release:
New Danfoss Digital Tool Provides Onsite Troubleshooting
New HVACR Service Tool helps contractors save time on the job site
Danfoss today announced the release of HVACR Service Tool — a user-friendly and reliable troubleshooting solution, designed to save contractors and service technicians valuable time in the field.
"With the ever-increasing complexity of today's systems, technicians frequently struggle to accurately troubleshoot issues in the field and are frequently forced to rely on colleagues, customer service centers, and internet searches for support. Without a singular source of reliable service information, technicians struggle to diagnose and repair issues correctly, which leads to incorrect repairs and call-backs," says Jeff Staub, director, regional applications Americas, Danfoss. "A one-source solution for installation and troubleshooting equips technicians with the confidence to do the job, while saving time and improving efficiency and accuracy."
The HVACR Service Tool allows for fast and easy problem-solving using keyword search, helping technicians as they diagnose and resolve issues. Users can also explore different parts of the cooling system with an intuitive interface to find potential problem areas and suggested solutions.
Not only can technicians find the information they need quickly, but they also will have the assurance of knowing it comes from a reliable source. The information included in the HVACR Service Tool comes directly from Danfoss application experts and is backed by more than 80 years of experience in the HVACR industry. It's verified by both Danfoss' engineering experts as well as technicians in the field.
Using the HVACR Service Tool, technicians can find solutions for nearly every issue they face when servicing a cooling system. Furthermore, users will be able to access the easy-to-follow, step-by-step instructions on their mobile device — making the tool easy to reference on site.
"We seek to provide our customers with solutions they can rely on. This online tool is a great complement to our product offerings while adding additional value on the job site. We'll continue to make additions to the tool so it will remain a reliable support for our users," said John Broughton, global application expert, Danfoss. 
The HVACR Service Tool is available now at www.hvacrservicetool.com.
# # #
Media contact:
Lisa Tryson, Director, Corporate Communications & PR – LisaTryson@Danfoss.com / phone: 410-513-1142
Related Links:
www.danfoss.us
www.hvacrservicetool.com
Danfoss engineers technologies that enable the world of tomorrow to do more with less. We meet the growing need for infrastructure, food supply, energy efficiency and climate-friendly solutions. Our products and services are used in areas such as refrigeration, air conditioning, heating, motor control and mobile machinery. We are also active in the field of renewable energy as well as district heating infrastructure for cities and urban communities. Our innovative engineering dates back to 1933 and today Danfoss is a world-leader, employing more than 25,000 employees and serving customers in more than 100 countries. We are still privately held by the founding family. Read more about us at www.danfoss.com.
More from Non-Industrial Products