Danfoss Releases VZH Variable-Speed Scroll Compressors with Manageable Acoustic Level
Press Release Summary: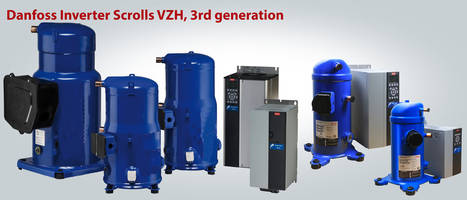 Offered in models ranging from 4 to 26 TR with intermediate discharge valve technology
Suitable for reversible applications and computer room air conditioning units
Allows accurate temperature control and humidity management
---
Original Press Release:
Third-Generation VZH Scrolls Bring Further Seasonal Efficiency Gains
Danfoss has boosted the part load performance and the operating maps of its leading VZH variable speed scroll compressor range.
The third-generation commercial inverter scrolls retain the strengths of the previous version, with the addition of the Intermediate Discharge Valve (IDV) technology for enhanced seasonal efficiency, and a wider operating map. The products are particularly suitable for comfort reversible applications and computer room air conditioning (CRAC) units.
Matthieu Stoll, Global Marketing Director A/C, Danfoss Cooling said: "The introduction of IDVs in the large models means that there's no longer a need for high- and low-pressure compressor optimization – potentially halving inventory management requirements. And the wider operating map brings huge value for strategic applications. We can accelerate the changeover from older Danfoss inverter scrolls to the third generation seamlessly."
Features and benefits of the new generation variable-speed scrolls include:
Prequalified Danfoss compressor and drive package for time to market and reliability
Accurate temperature control and humidity management for high energy efficiency and comfort
Low start-up current, and manageable acoustic level with variable speed technology
A complete line-up of models from 4 to 26 TR (up to 52 TR in hybrid tandems) all with IDV technology for superior part-load efficiency
Wider operating map to cover more types of applications
Smaller OEM inventory on larger models with the transition from two high-, low-pressure ratio to a single IDV model
Looking to the near future, multi-refrigerant capability is in the pipeline for the VZH range, including R452B and R454B, and a version derived from VZH will also be released for R32. This will enable OEMs to respond to future challenges in the refrigerant landscape, while addressing energy efficiency regulations.
VZH compressor and ETS Colibri electronic expansion valves: innovative solutions for IT cooling
Precise close control air conditioning systems are crucial for areas where cooling is business-critical, such as data centers, mobile phone network exchanges, and server rooms. Danfoss' VZH compressor and ETS Colibri® electronic expansion valve offer an affordable solution to deliver the precision needed. The ETS Colibri® electronic stepper motor valve with direct driven bi-polar motor delivers precise liquid injection into evaporators. The unique in-line design includes a balanced cage and slider assembly to ensure tight shut-off flow in both directions, providing optimal system operation.
More information at airconditioning.danfoss.com
For more information, please contact:
Laure Durrbach, Marketing Communication Manager, Danfoss Cooling Solutions, +33 (0)626 83 67 99 - l_durrbach@danfoss.com
Related links: 
www.airconditioning.danfoss.com
Danfoss engineers advanced technologies that enable us to build a better, smarter and more efficient tomorrow. In the world's growing cities, we ensure the supply of fresh food and optimal comfort in our homes and offices, while meeting the need for energy-efficient infrastructure, connected systems and integrated renewable energy. Our solutions are used in areas such as refrigeration, air conditioning, heating, motor control and mobile machinery. Our innovative engineering dates back to 1933 and today Danfoss holds market-leading positions, employing 27,000 and serving customers in more than 100 countries. We are privately held by the founding family. Read more about us at www.danfoss.com.
More from Controls & Controllers