Danfoss Power Solutions Obtains UL Certification for its PVE-EX Electrohydraulic Actuator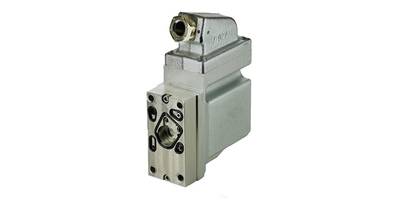 The Danfoss PVE-EX series of electrohydraulic valve actuators is now rated for Class 1 Zone 1, and Class 1 Div 2 hazardous zone environments suitable for oil and gas applications
Danfoss Power Solutions has secured UL certification for both the United States and Canada for its explosion-proof PVE-EX electrohydraulic actuator, used with its PVG valve family.
The PVE-EX is now approved and certified by UL for both the U.S. and Canada according to the National Electrical Code®, NEC 505 and NEC 500, as well as ATEX and IECEx standards for use in explosive atmospheres. This family of certifications enables Danfoss to serve customers whose equipment is used globally. The PVE-EX offers closed loop spool position control and event monitoring technology, providing users with the ability to monitor hydraulic system faults, while also offering highly reliable and precise valve control. 
The PVE-EX enables the use of PVG valves in harsh environments with explosive atmospheres. Designed with a cast iron enclosure, the PVE-EX protects the interior connectors and embedded electronics, while a protective coating on the exterior provides superior corrosion protection, making it ideal for both onshore and offshore oil and gas, as well as mining, applications.
The PVE-EX ex db protection variant uses a flame-proof method that is crucial for use in underground mining applications and oil and gas markets.
"The design of the PVE-EX is advantageous to OEMs seeking to achieve the required regulatory approvals governing the oil and gas market and underground mining," said Knud Meldgaard Jensen, global product marketing manager for Danfoss Power Solutions. "Our closed loop spool position allows fault monitoring, which improves operational efficiency by reducing potential downtime. In addition, this design solution enables the cable and cable harness to be changed out quickly, minimizing downtime."
Safe and predictable actuation
All Danfoss PVE actuators use a standard spool position feedback control signal to close the loop on the PVG valve main spool position, providing the right position at a given input signal. This ensures high precision of the valve flow with high predictability which leads to improved machine performance and productivity as well as reduced operator fatigue. Danfoss PVE actuators also come with built-in safeguards such as event monitoring and an optional output for spool direction.
Modular build concept
The PVE-EX is the newest addition to the Danfoss Power Solutions modular design concept, giving machine designers the freedom to configure the valve to meet the exact demands of the application and installation requirements.
The top cover on the PVE-EX can face forward or backward for easier installation, reducing complexity within the wiring harness. The modular design concept allows the PVE-EX to be easily installed into existing solutions with a cable connection through protected screw terminals. An industry standard 0-10V control signal variant is available, complementing the standard portfolio of ratiometric signal actuators.
The entire portfolio of Danfoss PVE actuators is based on 40 years of field experience and is designed to work seamlessly with Danfoss proportional valves to give OEMs increased flexibility with multiple configuration options to leverage the full potential of their machines.
Certifications
PVE-EX actuators are certified for use in oil and gas applications (group IIB) as well as underground mining (group I), including:
Group 1 (Mining):

Mining Products Safety Approval and Certification Center (MA) (China)
Mine Safety and Health Administration (MSHA) (U.S.)

Group IIB (Oil & Gas):

International Electrotechnical Commission System for Certification to Standards Relating to Equipment for Use in Explosive Atmospheres (IECEx) m (ATEX) (EU) (Class 1 Zone 1)
IECEx d (ATEX) (EU) (Class 1 Zone 1)
NEC AEX d (UL) (U.S. & Canada) (Class 1 Zone 1, Class 1 Div 2)
For technical information:
Knud Meldgaard Jensen                    Danfoss Power Solutions                   Phone: +45 7488 2841
                                                                Nordborg, Denmark                            kjmeldgaard@danfoss.com
For media information and photos:
Americas & Europe:
Allee Wengert                                     Danfoss Power Solutions                   Phone: +1 515 956 5271
                                                            Ames, Iowa, USA                               awengert@danfoss.com
Asia-Pacific:
Kentaro Ide                                          Danfoss Power Solutions                   Phone: +81 6 6395 6066
                                                             Osaka, Japan                                     kide@daikin-sauer-danfoss.com
China:
Kelly Xu                                                 Danfoss Power Solutions                   Phone: +86 21 3418 5336
                                                               Shanghai, China                                 kxu@danfoss.com
Related links:
http://powersolutions.danfoss.com
Related