Danfoss Offers New Roof Clips to Complement Their Roof and Gutter Cables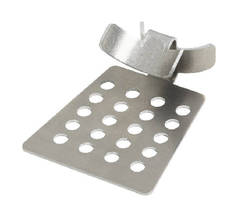 The new RX-C Roof Clip accessory is available for purchase spring of 2016, and can be used with Danfoss RX-C Self Regulating Cables.



Danfoss, a leading manufacturer of electric heating systems, releases a new roof clip to enhance their roof & gutter cable offerings.



The RX-C Roof clips are designed to secure the RX-C cables to asphalt shingles, metal seam roofs, and gutters. The clips offer an easy to install design; simply apply adhesive, press clip to roof surface, install cables and close clamps. Danfoss will also be offering the adhesive which will be available for purchase April of 2016.



"We are very excited to add the new RX-C clips to our portfolio of Electric Heating Products. The installer now has an option to use our Roof De-Icing self-regulating cables on metal roofs and gutters. It helps Danfoss offer the complete solution to our customers", says David Coy, National Sales Manager for Electric Heating systems.



Media contact:

Carla Horn, Marketing Communications Manager, – 410-933-6028 / Carla.Horn@Danfoss.com



Related link: www.heating.danfoss.us



Danfoss engineers technologies that enable the world of tomorrow to do more with less. We meet the growing need for infrastructure, food supply, energy efficiency and climate-friendly solutions. Our products and services are used in areas such as refrigeration, air conditioning, heating, motor control and mobile machinery. We are also active in the field of renewable energy as well as district heating infrastructure for cities and urban communities. Our innovative engineering dates back to 1933 and today Danfoss is a world-leader, employing 24,000 employees and serving customers in more than 100 countries. We are still privately held by the founding family. Read more about us at www.danfoss.com.

More from Cleaning Products & Equipment