Danfoss Highlights Innovative Solutions for Chiller and Rooftop Optimization and Differentiation at AHR Expo 2018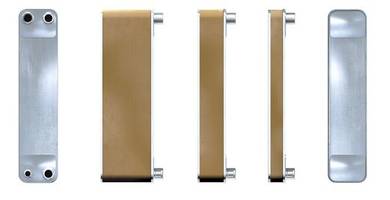 At the 2018 AHR Expo, Danfoss showcased its ongoing - and intensifying - investment in the development of innovative high-efficiency air-conditioning solutions. For both chillers and rooftop units, Danfoss remains focused on providing technologies that address evolving energy-efficiency standards, a demand for additional energy savings, the conversion to lower GWP refrigerants, and the expectation of lower applied costs - helping OEMs to reduce system design time and applied costs, and supporting contractors and end users as they seek to minimize operating and maintenance costs.
A significative enhancement is achieved for oil-free chillers with:
Danfoss Turbocor® TTH/TGH high-lift compressors: Featuring the award-winning oil-free, variable speed, magnetic bearing operation of other Danfoss Turbocor® compressors, the new Danfoss Turbocor® TTH/TGH high-lift compressors offer outstanding full- and part-load efficiency, low vibration and sound, a small footprint, and reduced maintenance - while providing an expanded operating map suitable for high-lift applications like air-cooled chillers and heat recovery. Danfoss Turbocor® TTH/TGH high-lift compressors are the recipient of the 2018 AHR Expo Innovation Award, green building category.
Danfoss Turbocor® TT/TG Series compressors for low-lift applications and TT Series compressors with R-513A refrigerant option: Danfoss has added to its portfolio of low-GWP (global warming potential) compressors an option to use R-513A, and expanded its operating map range to cover low lift applications for the TT/TG Series compressor family. R-513A is a low-GWP, non-flammable (A1) alternative refrigerant to R-134a that allows chiller manufacturers to meet future HFC regulations. The expanded low lift operating range of the TT/TG Series allows chillers to start and operate at low condenser water temperatures that are common during cold ambient temperature conditions and gives manufacturers the flexibility to eliminate the use of economizers on chillers. In addition, low lift capability allows for greater operating range for air cooled heat pump applications.
Extended oil-free portfolio: To enable HVAC professionals to more easily take advantage of the many benefits of oil-free technology, Danfoss has developed the first ever oil-free program - Danfoss EXO. The EXO oil-free program offers a wide range of key components that, together, further enhance the reliability and efficiency of the new generations of oil-free chillers. Danfoss' oil-free portfolio includes ETS C electric expansion valves series; EKE superheat controller; AKS 32 pressure sensors; MPHE and MCHE micro plate and microchannel heat exchangers; MCX system controllers; system protectors such as the DCL filter driers, CHV check valves, GBC ball valves, and ICM controller displays; as well as the pioneering oil-free technology of Danfoss Turbocor® TT, TG, TTH, or VTT compressors.
TurboTool® 2.0: Designed for technicians and OEMs, the new 2.0 version of Danfoss' versatile TurboTool® mobile app, available for iOS and Android devices, helps to simplify field service of Danfoss Turbocor® oil-free, variable speed, magnetic bearing centrifugal compressors. Service technicians can use the TurboTool® app to troubleshoot issues and resolve them quickly. TurboTool® also helps users quickly identify spare parts that may need to be replaced. By scanning the compressor serial number with a smartphone camera or by entering the part number or model number, the app can quickly display potential spare parts kits.
For scroll chillers and rooftops, the new developments include:
Danfoss Scrolls with IDVs 50TR: The range of Danfoss scrolls will be extended by early 2019 for air-cooled and water-cooled chillers up to 150 TR per circuit in manifold while traditional designs require quadros and more than two circuits. The technology has demonstrated system-wide energy efficiency gains, especially at part-load, and is widely adopted in the new generations of efficient and cost-effective chillers. Compact compressor dimensions fit standard chiller footprints and match the needs for the next generations of chillers at minimal redesign costs. A wide operating map matches a broad scope of applications.
Danfoss Inverter Scrolls VZH: By mid-2018, Danfoss will further extend its range of inverter scrolls to include two new models (8 TR and 10 TR) for higher efficiency and stepless modulation in chillers, rooftops, and close controls. The prequalified compressor and drive package accelerates OEM time to market. IDV technology and permanent magnet motors are key contributors to premium energy efficiency levels. With a unique inverter scroll range from 4 to 26 TR, and up to 52 TR in tandem, Danfoss is striving to support equipment manufacturers' range strategy with best-in-class energy efficiency and precision cooling.
For various types of chillers, the new launches include:
Danfoss MPHE micro plate heat exchanger range with Z-design evaporators have been released to increase capacity and efficiency in chillers covering a range of 10 to 170 TR (using R-410A) in both single and dual circuit systems. Z-design technology offers water chiller and heat pump manufacturers the opportunity to improve the economic and environmental efficiency of their machines. The innovative Z-pattern channel plate technology enhances performance of the heat exchanger by fully mixing liquid and gas refrigeration through a "zigzag" flow. The heat exchangers are compatible with various low-GWP refrigerants.
Danfoss ETS Colibri® electronic expansion valves: Designed for precise liquid injection into evaporators, Danfoss ETS Colibri® valves are now available. This new electronic expansion valve is the fastest electric valve, with a range of 20 to 140 tons (R-410A). Combined with Danfoss EKE superheat controllers, ETS Colibri® electronic expansion valves help to ensure low and stable superheat and save on operating costs.
Danfoss EKE superheat controllers: Danfoss has introduced a new series of superheat controllers designed to help OEMs develop more efficient chillers faster to reduce development and operational costs by up to 20 percent. The savings are achieved through different dimensions: savings on energy consumption, higher system reliability, and easy installation. The EKE superheat controller delivers adaptive superheat control through several control algorithms. A fast start-up feature ensures optimal superheat in the shortest amount of time and avoids low-pressure cut-out during startup. With tuned-up software, EKE controllers deliver efficiency, ease of use, and system protection while safeguarding an HVACR system. New features in the EKE Series ensures longer compressor life and provide robust protection.
Danfoss engineers technologies that enable the world of tomorrow to do more with less. We meet the growing need for infrastructure, food supply, energy efficiency and climate-friendly solutions. Our products and services are used in areas such as refrigeration, air conditioning, heating, motor control and mobile machinery. We are also active in the field of renewable energy as well as district heating infrastructure for cities and urban communities. Our innovative engineering dates back to 1933 and today Danfoss is a world-leader, employing more than 25,000 employees and serving customers in more than 100 countries. We are still privately held by the founding family. Read more about us at www.danfoss.com.
More from Material Handling & Storage