Dancer Arm Controller works under tension.
Press Release Summary: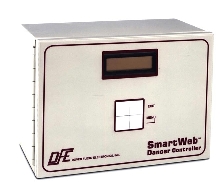 SmartWeb(TM) digital dancer arm controller manages tension on converting and winding machinery or web presses where process is intermittent and web slack take-up is needed. It can calculate instantaneous torque requirements based on fixed and variable rotating inertia, and automatically optimizes and refines itself as machine runs. Controller works with pneumatic, magnetic particle, or electromagnetic brakes, or with electric motor controls.
---
Original Press Release:
SmartWeb Dancer Controller

(ROCHESTER, NH, USA-March 1, 2002) Tension Controls manufacturer Dover Flexo Electronics, Inc, announces the release of the SmartWeb(TM), a feature-packed, low-cost digital dancer arm controller. SmartWeb(TM) manages tension on converting and winding machinery or web presses where the process is intermittent and web slack take-up is needed.

With a simple four-button, front panel keypad and display, or via PC serial interface, the SmartWeb(TM) Controller can easily be configured for a range of applications, from a basic system with dancer position feedback only, to more sophisticated arrangements that include line speed and roll diameter feedback. The controller can calculate instantaneous torque requirements based on fixed and variable rotating inertia.

The SmartWeb(TM) Controller uses application data to produce a model of the machine, including the web material's inertia, the brake or drive's torque-producing ability, and parameters from the line speed and roll diameter sensors. As the controller runs, it refines its estimates of rotating inertia so that it can improve the torque level applied to the unwinding roll during periods of acceleration and deceleration.

The SmartWeb(TM) works with either pneumatic, magnetic particle, or electromagnetic brakes, or with electric motor controls.

Standard features include:
* Compact, self-contained, easy-to-mount package
* SmartWeb(TM) requires no input from machine operator
* Controller uses roll inertia compensation (not just diameter compensation) to optimize web control
* Control automatically optimizes and refines itself as the machine runs
* Option available for dancer cylinder air pressure input to be used to infer web tension

More from Fasteners & Hardware