Damping Ball Screw utilizes vibration damping technique.
Press Release Summary: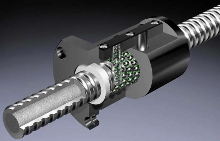 Product incorporates vibration damper inside hollow ball screw shaft for improved positioning accuracy and lower noise levels. Available for ball thread shaft diameters from 16-50, it is interchangeable with all ball screw types.
---
Original Press Release:
THK has Developed Low Vibration Damping Ball Screw
Schaumburg, IL - (August 31, 2004) In response to a continuing demand for heightened speed and accuracy, THK has developed a damping ball screw. The incorporation of a vibration damper inside the hollow ball screw shaft greatly improves positioning accuracy. Other advantages include low noise through reduced vibration and higher speed capabilities. In a test study using an impulse hammer, the high damping ball screw performed with less vibration time than a conventional ball screw. As a result, machining efficiency was increased through shortened tact time. In vibration during axial direction tests, dampening effect was six times greater with a damping ball screw compared to a conventional ball screw. Settling time was therefore reduced. In vibration during bending direction studies, dampening effect for the damping ball screw was 3.5 times greater. This allowed for operation beyond resonance point and improved surface finishes. The high damping ball screw is available for ball thread shaft diameters from 16 to 50. It is interchangeable with all conventional ball screw types. The overwhelming success of THK's caged technology has propelled the expansion of caged technology throughout the product line. THK is also expanding their product offering to include larger and smaller sizes as well as new materials and technology to achieve superior results in the most demanding applications. To learn more, visit their IMTS Booth #D-4305, log on to www.thk.com or contact THK America, Inc., 200 E. Commerce Dr., Schaumburg, IL 60173, Phone: (847) 310-1111, Fax: (847) 310-1182, e-mail: [email protected].