Damped MEMS Accelerometer suits impact testing applications.
Press Release Summary: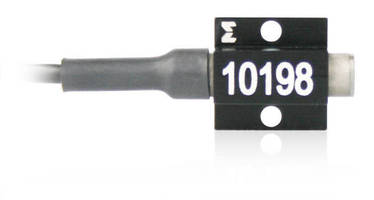 Featuring sensing elements housed within rugged, lightweight, aluminum and weighing 1.4 g, Model 7264G features full bridge with 2 fixed resistors to facilitate shunt calibration. In-built sensor delivers shock resistance of up to 10,000 G in any direction, with range of +2,000 G full scale. Full scale output is 400 mV with 10 Vdc excitation. With frequency response extending down to DC and integral mechanical overrange stops, device is suited for any crash or shock application.
---
Original Press Release:

Endevco Debuts Damped, Low Mass DC Response Accelerometer for High Reliability Impact Testing Applications



August 7, 2009, San Juan Capistrano, California, USA - Endevco Corporation (Endevco) (www.endevco.com), a global leader in the design and manufacture of sensing solutions for demanding vibration, shock and pressure applications, has introduced Model 7264G, a patented, damped MEMS accelerometer for crash sled, rough road and other critical shock testing applications.

Model 7264G features a full bridge, with two fixed resistors to facilitate shunt calibration. Sensing elements are housed within a rugged, lightweight aluminum, for a total weight of just 1.4 grams. The light damping of Model 7264G enables the unit to attenuate resonance and minimize phase shift over the useful frequency range. Full scale output is 400 mV with 10 Vdc excitation. Units are available with less than 1% transverse sensitivity ("T" option) and less than ±25 mV zero measurand output ("Z" option). A uniquely advanced micromachined monolithic sensor design offers improved ruggedness, stability and reliability, with added damping capability.

The sensor delivers shock resistance of up to 10,000 g in any direction, with a range of +2,000 g full scale. With frequency response extending down to DC (steady state) and integral mechanical overrange stops, the accelerometer is ideal for any crash or shock application where measurement of long duration transients, with minimal mass loading and broad frequency response, are required. This includes non-automotive applications, such as in shipping container shock tracking, ejection seat and jack hammer testing.

Because Model 7264G has the same seismic mass, center of gravity and bolt hole spacing as the industry best-selling Endevco Model 7264C-2K accelerometer, it may be used as a drop-in replacement for legacy applications, where damping capabilities are an added benefit. Model 7264G meets SAEJ211 and SAEJ2570 specifications for instrumentation for vehicle impact testing, as well as multiple other global automotive testing standards.

For detailed specifications, drawings, or technical assistance on Model 7264G or other Endevco products, please visit www.endevco.com.

About Endevco Corporation, a Meggitt Group Company:

Founded in 1947, with headquarters in San Juan Capistrano, California, USA, Endevco is the world's leading designer and manufacturer of dynamic instrumentation for vibration, shock and pressure measurement. The company's comprehensive lines of piezoelectric, piezoresistive, Isotron® and variable capacitance accelerometers are used to ensure accurate and reliable measurements in a wide range of industries, including aerospace, defense, automotive, test and measurement, medical, and energy. Additional products include pressure transducers, acoustic sensors, electronic instruments and calibration systems. A member of the Meggitt group of companies (www.meggitt.com), Endevco supports customers with a global network of manufacturing and research facilities, sales offices and applications engineers.

Technical:

Jennifer MacDonell

Senior Product Manager

Endevco Corporation

Tel: 1-888-ENDEVCO

Jennifer.macdonell@meggitt.com

General/Sales Leads:

Jessica Koble

Sales & Marketing Coordinator

Endevco Corporation

Jessica.koble@meggitt.com

Tel: 949-276-0413

More from Electrical Equipment & Systems