Daimer® Vapor Steam Cleaner Units Provides Big Savings on Small Brushes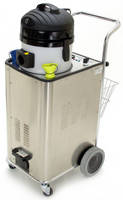 Extra brushes for Ultra 8000 line now sell for $2.50 versus competitor's products sold at $20.

WOBURN, MA, U.S.A. -- Daimer Industries, Inc.®, a supplier of professional-grade vapor steam cleaner machines and accessories, will sell extra brushes for the KleenJet® Ultra 8000 line for only $2.50, less than one sixth of what competitors charge for similar brushes.

"We wanted to provide our Ultra 8000 customers with low-priced, high-quality replacement brushes," added Matthew Baratta, a spokesman for pricing at Daimer.com. "The brushes are available in a variety of styles - all at the same low price."

Vapor Steam Cleaner Brushes for Professionals

Many vendors in the cleaning business generate large revenues on small products, such as brushes.

To combat this practice, Daimer® is offering extra brushes for the Ultra 8000 line of vapor steam cleaner machines for only $2.50. The price covers brushes manufactured of popular bristle types, including nylon for delicate surfaces, brass brushes tougher jobs, and steel for the challenging jobs.

The Ultra 8000 series includes 4 systems. All the steam cleaner units offer 14 liter stainless steel boilers and 10 liter automated refilling tanks. Two models, the 8485CV and the 8850CV, include professional grade vacuum systems.

Most of the vapor steam cleaner machines generate temperatures peaking at 329ºF and pressure levels of 120 psi. Two models, the 8730C and 8850CV, can hit temperatures of 386ºF and pressure ratings of 150 psi. Ten-gallon detergent tanks and support for direct water feed for continuous cleaning are included with these systems.

Daimer® also offers a variety of accessories and upgrades for these vapor steam cleaner systems. Steam hoses come standard at 16-feet in length, but other lengths are available. Likewise, steam vac hoses for the 8485CV and 8850CV, come standard at 26 feet in length, but other lengths can be purchased from Daimer®.

For additional information about the new brushes, or Daimer® grout steam cleaner equipment, steam cleaner machines and gum removal business, equipment visit www.daimer.com/steam-cleaners/ or call Matthew Baratta at (888) 507-2220. The steam cleaner systems are available to customers in most countries in 50 Hz and 60 Hz configurations. Minimum order quantities may apply.

About Daimer Industries, Inc.®: Daimer®, www.daimer.com, is a major supplier and worldwide exporter of the cleaning industry's leading line of KleenJet® steam cleaners/vapor steam cleaners/steam cleaning equipment; Super Max(TM) commercial and industrial pressure washers, including cold water, hot water, and steam pressure washing machines; XTreme Power® floor cleaners, including carpet cleaners, hard surface cleaners, and floor buffers/scrubbers/burnishers; and the line of Micro-Blasting® Eco-Green® environmentally friendly cleaning products that employ unique technologies and a patented, proprietary chemistry.

More from Agricultural & Farming Products