Daimer Ships Powerful Electric Pressure Washers for Sanitization of Sausage Manufacturers' Facilities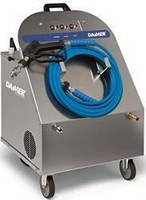 Daimer Industries, Inc.®, the biggest source of a variety of cleaning machines including high performance pressure washers, is now shipping the powerful and versatile Vapor-Flo® 7825, the second model in the company's 7800 series. The powerful water pressure washers come with a stainless steel encasing that is designed to resist rust and harmful industrial chemicals, making them among the best electric pressure washer machines for tough commercial applications.



"Hygienic maintenance of equipment and the plant as a whole is a cardinal factor for sausage manufacturers to ensure production efficiency and quality of finished products, says Matthew Baratta, Daimer Industries, Inc.® spokesperson. "Daimer® is delighted to offer one of its best electric pressure washer machines for sausage manufacturers that can help them keep their facilities scrupulously clean with very little effort. As with all our Vapor-Flo® machines, these systems combine high power and moderate temperature levels, and deliver a quiet and exhaust-free performance that is ideal for food manufacturing plants."



The Vapor-Flo® 7825, one of the best electric pressure washer machines available, is manufactured for repeat applications in a single location. These stationary pressure washers offer 140 bar pressure, 5.3 LPM flow, and temperature levels of 79.4°C in a robust and durable stainless steel design. The electric pressure wash systems do not require any type of fuels for pressure or heat. The machine instead relies purely on electricity for drawing power through its heavy-duty 3.0 HP motor driven by the standard power method of 440V, three phase, 60Hz. This makes the rugged electric power washer the perfect cleaning system for indoor environments, especially for the food industry.



The Vapor-Flo® 7825 is designed for heavy-duty industrial applications http://www.daimer.com/pressure-washers/vapor-flo-7825.htm, but is not designed for task, such as cleaning and degreasing of sidewalks, parking lots, and other larger outside surfaces. The system can be used for cleaning industrial floors, and even machinery. Operators can take optimum advantage of the heated water, which is delivered at high pressure levels to improve cleaning results amazingly well.



These versatile commercial pressure washers also offer the option of using cold water for lighter cleaning tasks or for cleaning surfaces that are not capable of withstanding high temperature cleaning. The system comes with a 25° stainless steel pressure nozzle, which makes cleaning of larger areas quicker through its wider spray pattern.



Operators can significantly enhance the cleaning power of pressure wash equipment through the use of chemicals, which can be used through the machine's siphon type standard/foam lance chemical injection. Users can upsteam any PH balanced cleaning agents of their choosing.



All electric machines include benefits, such as easy clean up, quiet operation, and cost effectiveness over fuel driven cleaning machines. Additional options include adjustable pressure and custom hose lengths. Optional power method of 440V, three phase, 60Hz is available for international users.



For Additional Information:

Discover more about Daimer®'s line of commercial pressure washer systems, such as gas pressure wash systems and electric power washer machines, by visiting the company's website or calling Matthew Baratta at (888) 507-2220.



About Daimer Industries, Inc.®:

Daimer Industries, Inc.® is a major supplier and worldwide exporter of the cleaning industry's leading line of KleenJet® steam vacuum cleaners; Super Max™ commercial and industrial pressure washing machines http://www.daimer.com/, including cold water, hot water, and steam pressure washing machines; and XTreme Power® floor steam cleaners including carpet cleaners, auto detailing, and hard surface cleaners.



More from Test & Measurement