DACs manage power consumption in process control applications.
Press Release Summary: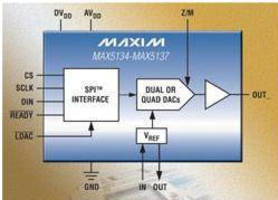 Quad (MAX5134/MAX5135) and dual (MAX5136/MAX5137), 16-bit and 12-bit DACs are designed to address concerns about power consumption. In sleep mode, MAX5134-MAX5137 family draws less than 300 nA, and four 12- or 16-bit DACs can operate on average current of 2.5 µA. Featuring integrated, high-precision voltage reference, pin- and software-compatible multi-channel DACs give designers flexibility to change channel count and resolution with little or no design rework.
---
Original Press Release:

Pin- and Software-Compatible, Multichannel DACs Offer the Most Flexibility for Managing Power Consumption in Industrial Process-Control Applications



o Industry's first quad- (MAX5134/MAX5135) and dual-channel (MAX5136/MAX5137) 16- and 12-bit digital-to-analog converters (DACs) that are pin and software compatible to reduce design time, shorten time to market, and reduce inventory costs.

o With an integrated high-precision voltage reference and featuring high linearity, these DACs provide the combination of better accuracy, more integration, and a smaller package than the competition.

o The high linearity and flexibility of the DACs make them ideal for industrial process control and portable instrumentation applications, including communication systems, programmable logic controllers, servo loops, and automatic test equipment.

o Other applications that will benefit from these DACs are automatic tuning, gain and offset adjustment, power amplifier control, data acquisition, programmable voltage, and current sources.

SUNNYVALE, CA-February 5, 2009-Fulfilling the industry's requirement for high-precision multichannel DACs with design flexibility, Maxim Integrated Products (NASDAQ: MXIM) introduces a family of quad (MAX5134/MAX5135) and dual (MAX5136/MAX5137), 16-bit and 12-bit digital-to-analog converters (DACs) which are pin and software compatible. These multichannel DACs are designed to address customers' environmental concerns about power consumption.

Today, power conservation is critical in all systems, not just battery-powered devices. In sleep mode, the MAX5134-MAX5137 family draws less than 300nA. Four 12- or 16-bit DACs can operate on an average current of 2.5microamps. Featuring an integrated, high-precision voltage reference, these DACs also give designers unmatched flexibility to change channel count and resolution with little or no design rework. Consequently, each DAC channel can be powered down individually for better control of power consumption.

The high linearity (±8LSB INL for the 16-bit DAC and ±1LSB INL for the 12-bit DAC) and flexibility of these DACs make them ideal for industrial process control and portable instrumentation applications, such as communication systems, programmable logic controllers, servo loops, and automatic test equipment. Other broad-based applications include automatic tuning, gain and offset adjustment, power amplifier control, data acquisition, programmable voltage, and current sources.

Design Flexibility for Industrial Precision Equipment

For production efficiency, inventory control, and time to market considerations, designers of today's industrial precision equipment employ a modular approach with multiple channels. Designers demand the flexibility to change resolution and channel count quickly, depending on their customer needs.

Using conventional converter solutions, designers had to redesign their board and rework the software to change resolution or channel count. With the MAX5134-MAX5137 family of pin- and software-compatible DACs, "Designers can now switch between quad- and dual-channel 12-bit and 16-bit DACs without redesigning their board or control software," said Jeremy Tole, Maxim's Director of Business Development for Data Converters.

Unique Performance Capabilities

The MAX5134-MAX5137 DACs are unique in the industry because they offer the combination of better accuracy, greater integration, and a smaller package than competitive devices. The integrated voltage reference has a temperature coefficient of 10ppm/°C and the devices deliver ±8LSB INL for the 16-bit and ±1LSB for 12-bit DACs. This high accuracy is a marked improvement over the ±16LSB INL of the competition. All DAC outputs are buffered. "The internal buffers provide improved load regulation and transition glitch suppression for the DAC outputs," Tole explained.

A pin-programmable zero/midscale DAC output ensures that the DAC output powers up to the desired state, even during a loss-of-power event. This output provides additional safety for applications that drive valves or other transducers that need to be off during power-up.

Each DAC features a software-controlled power-down mode for each channel. To conserve power when all four channels are powered down, the internal reference and biasing circuits also power down to consume only 300nA shutdown current.

The devices accept a 3-wire SPI(TM)-/QSPI(TM)-/MICROWIRE(TM)-/DSP-compatible serial interface, which saves board space and reduces the complexity of optically-isolated and transformer-isolated applications. To reduce number of optocouplers in isolated applications, the serial interface features a READY output for easy daisy chaining of several MAX5134-MAX5137 devices and/or other compatible devices.

These parts are offered in an ultra-small 4mm x 4mm TQFN package and are guaranteed monotonic to 16 bits.

Summary of MAX5134-MAX5137 Key Features
o Quad and dual, 12-bit and 16-bit resolution in an ultra-small 4mm x 4mm, 24-pin TQFN package

o Optional integrated high-precision 10ppm/°C internal reference

o Double-buffered input registers

o Hardware-selectable, power-up or reset-to-zero/midscale DAC output

o Low-power consumption (ISHDN = 300nA, typ)

o 30MHz, 3-wire SPI-/QSPI-/MICROWIRE-/DSP-compatible serial interface

o LDAC asynchronously updates DAC outputs simultaneously

o Guaranteed monotonic over all operating conditions

o Wide +2.7V to +5.25V supply range

o Rail-to-rail buffered output operation

o Low gain error (less than ±0.5%FS, max) and offset (less than ±10mV, max)

The pin- and software-compatibility among these DACs saves significant design time and reduces time-to-market. The DACs operate over a wide +2.7V to +5.25V supply range to accommodate most low-power and low-voltage applications. The devices' low gain error (less than ±0.5%FS) and offset (less than ±10mV) provide the high precision necessary for process-control applications. These devices are offered in an ultra-small (4mm x 4mm) 24-pin TQFN package and are specified over the -40°C to +105°C extended industrial temperature range.

Prices start at $9.95 for the MAX5134, $4.75 for the MAX5135, $5.75 for the MAX5136, and $2.50 for the MAX5137 (1000-up, FOB USA). Samples and evaluation kits are available. For more information please visit: www.maxim-ic.com/Multichannel-DACs.

Maxim Integrated Products is a publicly traded company that designs, manufactures, and sells high-performance semiconductor products. The Company reported revenue in excess of $2 billion for fiscal 2008. Maxim was founded over 25 years ago with the mission to deliver innovative analog and mixed-signal engineering solutions that add value to its customers' products. To date, it has developed over 5900 products serving the industrial, communications, consumer, and computing markets. For more information, go to www.maxim-ic.com.

Customer Service: 1-800-998-8800

More from Controls & Controllers