DACs integrate internal reference in SC70 package.
Press Release Summary: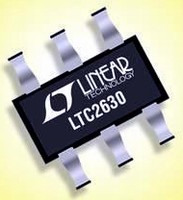 Supplied in 2.1 x 2 mm 6-lead package, LTC2630 series is comprised of 12-, 10-, and 8-bit DACs that offers choice of internal 2.5 or 4.096 V, 10 ppm/°C FS reference. Single voltage output DACs exhibit ±1 LSB max integral nonlinearity error and suit under the hood automotive voltage adjustment. Specified over -40 to +125°C, IC communicates via 3-wire SPI-compatible serial interface at clock rates up to 50 MHz. Output settles for half-scale step in less than 5 µs.
---
Original Press Release:

12-Bit/10-Bit/8-Bit Voltage Output DAC Family Integrates Internal Reference in Tiny SC70 Package



MILPITAS, CA - June 4, 2007 - Linear Technology Corporation introduces the LTC2630, a family of 12-bit, 10-bit and 8-bit digital-to-analog converters (DACs) in tiny 2.1mm x 2mm SC70 packages - the smallest available DACs with an internal reference. The LTC2630 offers the choice of an internal 2.5V or 4.096V 10ppm/°C full-scale reference, providing nearly a 50% board space reduction over competing DACs with an internal reference. These single voltage output DACs achieve 12-bit DC performance of ±1LSB(max) integral nonlinearity error. The LTC2630 is ideal for "under the hood" automotive voltage adjustment, as it is guaranteed for operation over the H-grade temperature range (-40°C to +125°C), in addition to the I grade (-40°C to +85°C) and C-grade (0°C to +70°C) temperature ranges. With its tiny SC70 package, internal reference, and resolution options, the LTC2630 family can be used in a wide range of portable and space-constrained applications including battery-powered, consumer and process control equipment.

The low-power LTC2630 draws only 160uA of supply current at 3V and 180uA at 5V. Communicating via a 3-wire SPI-compatible serial interface at clock rates up to 50MHz, the LTC2630 DAC output settles for a half-scale step in less than 5us. Operating from a single 2.7V to 5.5V supply, the output can swing to the internal reference voltage or rail-to-rail to the supply voltage. The DAC outputs can power up to zero-scale or mid-scale, allowing more flexibility for designs that cannot be forced to ground when power is first applied.

The LTC2630-12, LTC2630-10, and LTC2630-8 are pin-compatible 12-bit, 10-bit, and 8-bit DACs, respectively. They are all available today in 6-pin SC70 packages, offering a pin- and software-compatible family for performance/cost optimization. Pricing begins at $1.43 each for the LTC2630-12, $1.24 each for the LTC2630-10, and $0.98 each for the LTC2630-8 in 1,000-piece quantities.

Summary of Features: LTC2630
· Integrated Precision Reference
2.5V 10ppm/°C (LTC2630-L)
4.096V 10ppm/°C (LTC2630-H)
· Maximum INL Error: 1LSB (LTC2630A-12)
· Low Noise (0.7mVPP, 0.1Hz to 200kHz)
· Guaranteed Monotonic over Temperature
· Selectable Internal Reference or Supply as Reference
· 2.7V to 5.5V Supply Range (LTC2630-L)
· Low Power Operation: 160uA at 3V
· Power Down to 1.5uA Max
· Power-on Reset to Zero or Midscale Options
· SPI Serial Interface
· Tiny 6-Lead SC70 Package

About Linear Technology
Linear Technology Corporation, a manufacturer of high performance linear integrated circuits, was founded in 1981, became a public company in 1986 and joined the S&P 500 index of major public companies in 2000. Linear Technology products include high performance amplifiers, comparators, voltage references, monolithic filters, linear regulators, DC-DC converters, battery chargers, data converters, communications interface circuits, RF signal conditioning circuits, and many other analog functions. Applications for Linear Technology's high performance circuits include telecommunications, cellular telephones, networking products such as optical switches, notebook and desktop computers, computer peripherals, video/multimedia, industrial instrumentation, security monitoring devices, high-end consumer products such as digital cameras and MP3 players, complex medical devices, automotive electronics, factory automation, process control, and military and space systems. For more information, visit www.linear.com

LT, LTC, LTM, Burst Mode and are registered trademarks of Linear Technology Corp.

More from Agricultural & Farming Products