DAC features integrated speaker amplifier.
Press Release Summary: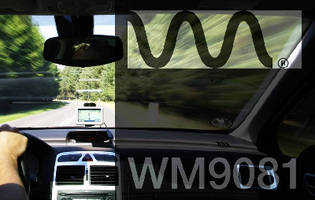 Suited for portable navigation devices, mobile handsets, and digital radios, Model WM9081 features integrated 2.6 W switchable AB/D speaker amplifier, dynamic range controller, and ReTune(TM) Mobile 5 band Parametric Equalizer with fully programmable coefficients. Single chip mono DAC achieves audio performance of 92 dB SNR in Class D mode and 1% THD+N at 2.4 W output power into 4 W speaker loads. It supports 4 control interface addresses and 4-channel TDM.
---
Original Press Release:

New Wolfson Mono DAC Delivers Big Sound from Small Speakers



Edinburgh, UK, May 21st 2009 - Wolfson Microelectronics (LSE: WLF.L) announces the WM9081, a new single chip mono DAC and speaker amplifier, well suited for delivering optimum sound pressure levels (SPL) and maximum intelligibility from low cost speakers. Typical applications include portable navigation devices, mobile handsets, digital radios and conference speakerphones.

The WM9081 benefits from an integrated high efficiency 2.6 W switchable class AB/D speaker amplifier, dynamic range controller and ReTune(TM) Mobile 5 band Parametric Equalizer. WM9081 achieves audio performance of 92 dB SNR in Class D mode and 1% THD+N @ 2.4 W output power into 4W speaker loads. Compared to typical two chip solutions which use a DAC and separate class D amplifier the WM9081 consumes approximately 30% less PCB area and achieves an average 20% BOM cost reduction.

The WM9081 integrates a ReTune(TM) Mobile 5 band Parametric Equalizer with fully programmable coefficients allowing speaker frequency response compensation and music profiles to be defined by the end user. Programmable dynamic range control is integrated to help boost low-level signals to maximize volume for improved intelligibility. The WM9081 features a limiter designed to prevent audio signal clipping and distortion, which can overload the battery and potentially damage the speakers.

A digital audio interface gives the system designer several advantages in terms of noise immunity/reduction. Digital input allows the WM9081 to be located close to the speakers in multi-channel systems without the need for long analog connections. By locating the driver close to the speaker the need for bulky and expensive Class D filters is removed, while PCB track lengths, which carry noisy high frequency switching currents, can be minimized.

The WM9081's integrated register write sequencer helps to minimize software development time. A number of signal paths (such as DAC to speaker mode) can be enabled and disabled by just one register write. To do this, the internal sequencer initiates a sequence of pre programmed multiple writes independently within the WM9081, offloading control interface communication between the processor and WM9081.

David Brown, Audio Amps Product Line Manager, Wolfson Microelectronics comments: "With the WM9081, designers of portable navigation devices and other similar systems do not need to sacrifice audio performance to maximize output power. Drawing on our audio expertise, Wolfson has developed a single-chip integrated device, which not only enables OEMs to make significant savings on PCB space and BOM cost, but also achieves a radically improved user experience by squeezing the absolute best, in terms of performance, intelligibility and noise immunity, from low cost speakers."

The WM9081 supports four control interface addresses and four-channel TDM to allow multiple devices to be configured and driven independently. Controlling the device is done via a standard 2-wire, 3-wire, or 4-wire control interface or by hardware control pins.

Pricing and Availability:

The WM9081 is available for sampling now in a 28-pin COL QFN package and is priced at $0.80 in volumes of 1,000.

A full WM9081 evaluation system is available including evaluation board, full schematics, Linux driver and Wolfson's Interactive Set-up Configuration Environment (WISCE) - a downloadable software GUI which allows the developer to make real time modifications to an interactive version of the register map and modify the device configuration while developing software settings.

About Wolfson Microelectronics

Wolfson Microelectronics plc is a leading global provider of high performance, mixed signal semiconductors to the consumer electronics market. Wolfson is renowned for its high performance audio and ultra low power consumption, its devices are at the heart of many high profile consumer electronics products, including mobile phones, mp3 players, flat panel TVs and in-car infotainment systems. Wolfson technology enables exciting new end-user experiences by connecting the digital world to the human senses.

Headquartered in Edinburgh, UK, Wolfson has sales and engineering offices in the USA, Japan, China, Taiwan, Korea, Singapore and India. Wolfson Microelectronics plc is listed on the London stock exchange. (LSE: WLF.L) For more information about Wolfson Microelectronics, please visit: www.wolfsonmicro.com or sign up for Wolfson eNews at: www.wolfsonmicro.com/enews

Contacts:

Anne Connolly

Wolfson Microelectronics plc

Tel: +44 (0) 131 272 7000

Email: anne.connolly@wolfsonmicro.com

More from Sensors, Monitors & Transducers