DAC Development Kit Adaptor speeds system prototyping.
Press Release Summary: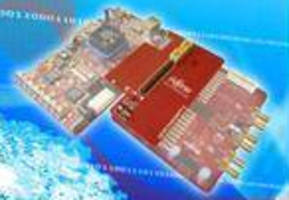 Model DKXC5VADAPT-1 provides physical link between data headers on DK86064/65-2 development kits and HiTech Global V5-PCIE2 FPGA prototype board. Featuring 6 Samtec sockets that plug into headers on both boards, it connects 28 matched LVDS data pairs, DAC loop clock pairs, and 2 divided clock signals between both boards. All clock signals are routed to dedicated global clock inputs on FPGA. System allows testing and developing of FPGA-DAC interface.
---
Original Press Release:

Fujitsu Introduces Digital-to-Analog Converter Development Kit Adaptor to Speed System Prototyping



Langen, Germany, 4th November 2009 - Fujitsu Microelectronics Europe (FME) today announces the launch of a new digital-to-analogue converter (DAC) development kit adaptor. The DKXC5VADAPT-1 demonstrates how simple it is to implement a high-performance interface between an FPGA and the Fujitsu DK86064-2 and DK86065-2 high-performance DAC development kits. The adaptor is designed to interface directly to the HiTech Global V5-PCIE2 FPGA prototype board to combine the power of the Xilinx Virtex(TM)-5 FPGA with Fujitsu's high-speed DAC.

The DKXC5VADAPT-1 provides a physical link between the data headers on the Fujitsu DK86064/65-2 development kits and the HiTech Global V5-PCIE2 FPGA prototype board. The underside of the adaptor features six Samtec sockets that plug directly into the headers on the two boards. It connects 28 matched LVDS data pairs, the DAC Loop Clock(1) pairs and two divided clock signals between the two boards. All clock signals are routed to dedicated global clock inputs on the FPGA. The complete system forms a compact solution for testing and developing an FPGA-DAC interface.

In addition to providing a high-speed interface to the Fujitsu DAC, the Hi-Tech Global V5-PCIE2 development platform features tri-mode Ethernet (10/100/1000), a 4-lane PCI Express end-point connector (upstream), a DDR2 SO-DIMM socket (up to 4GB), a 512MB DDR3 component, 128MB Platform Flash XL for configuration as well as user Flash memory and on-board clocking.

Fujitsu Microelectronics development platforms are designed to deliver value to customers' prototyping phase. The DKXC5VADAPT-1, combined with the appropriate Fujitsu DAC development kit, forms a platform that covers of all aspects of the FPGA/DAC interface design enabling customers to focus on prototyping their system.

With the platform immediately operational based on supplied example firmware customers will be able to save weeks of valuable resource effort, speeding time to market and greatly reducing risk. Significant cost savings can also be realised compared to developing and debugging a custom development platform.

Commenting on the launch of the new DAC development kit adaptor, Paul Maddox, Senior Marketing Manager, Mixed Signal Division, Fujitsu Microelectronics Europe, said: "Stand-alone evaluation boards can have limited benefit to customers. This new adaptor raises evaluation to the next level and continues the philosophy that Fujitsu's development kits accelerate the establishment of realistic system solutions platforms."

Availability

Fujitsu's DKXC5VADAPT-1 DAC development kit adaptors are available for immediate shipment. Customer support is provided both locally through appointed sales representatives and electronically via msd.support@fme.fujitsu.com. To help customers get started with the platform Fujitsu is pleased to offer a sample implementation for the FPGA/DAC interface.

The Hi-Tech Global V5-PCIE2 FPGA prototype board is available directly from HiTech Global with a number of different Virtex-5 parts, including the XC5VLX50T and the XC5VFX100T. The FPGA can either be programmed directly over JTAG or via the on-board 128MB Flash memory. The configuration can be saved into Flash memory, thereby removing the need to reprogram the device at power on. Programming is performed via a Xilinx USB programming cable.

1. Fujitsu's proprietary Loop Clock system

Maintaining valid clock-to-data timing can prove to be a difficult task when using high speed data converters. Fujitsu's MB86064/65 DACs avoid potential problems through the provision of a proprietary Loop Clock system.

The Loop Clock is generated in sync with the DAC data at the FPGA output. This clock is passed through a user programmable delay in the DAC and then routed back to the FPGA's PLL feedback input. Altering the delays in the divided clock or Loop Clock signals allows the user to advance or retard data timings in order to find the optimum data eye. Once calibrated, the system automatically compensates for the effects of device-to-device variations, voltage and temperature (PVT).

About Fujitsu Microelectronics Europe

Fujitsu Microelectronics Europe (FME) is a major supplier of semiconductor products. The company provides advanced systems solutions to the automotive, digital TV, mobile telephony, communications, networking and industrial markets. Engineers from design centres dedicated to microcontrollers, graphics controllers, mixed-signal, wireless, multimedia ICs, ASIC products and software development, work closely with FME's marketing and sales teams throughout EMEA to help satisfy customers' systems development requirements. This solutions approach is supported by a broad range of advanced semiconductor devices, IP, building blocks and software.

For more information, please visit: emea.fujitsu.com/microelectronics

Fujitsu Microelectronics Europe

Pittlerstrasse 47

63225 Langen

Germany

Tel: +49 (0)6103 69 00

Fax: +49 (0)6103 69 01 22

E-mail: jim.bryant@fme.fujitsu.com

Contacts: Jim Bryant

More from Architectural & Civil Engineering Products