D375A-8 Crawler Dozer is equipped with dual Komatsu diesel particulate filters.
Press Release Summary: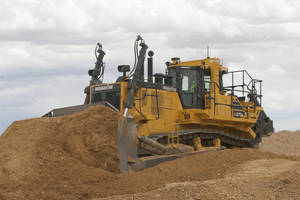 D375A-8 Crawler Dozer is designed with high pressure common rail fuel injection system, EPA Tier 4 Final SAA6D170E-7 certified engine and variable geometry turbocharger. Featuring automatically engaging lockup torque converter, unit comes with blade auto-pitch, ripper auto-return, and shoe slip control. Equipped with reversible radiator fan and Mesabi copper-core radiator, Dozer features PM service connectors, centralized grease points and rearview monitoring system.
---
Original Press Release:
Komatsu America Corp. Introduces the New D375A-8 Crawler Dozer
More horsepower and improved undercarriage add up to faster cycle times and more productivity
Komatsu America Corp., a leading global heavy equipment manufacturer, introduced the D375A-8 crawler dozer today. The D375A-8 features an EPA Tier 4 Final certified engine that produces over 20% more horsepower while the dozer is traveling in the reverse direction. The additional horsepower yields faster cycle times and a productivity increase of up to 18%.
This mining-class dozer also comes with structural enhancements for increased durability of the mainframe and track frame. The D375A-8 also features an improved suspended undercarriage, larger viscous cab mounts, and a new air-suspension heated and ventilated seat for overall operator comfort.
"Whether its reclamation, large construction or production mining applications, the D375A-8 is the right machine for the job," said Joe Sollitt, product manager, Komatsu America. "The durability improvements to this new model drive down the total cost of ownership while the more powerful Tier 4 final engine significantly increases performance and production. The improvements to the undercarriage, cab suspension, and operator interface will make D375A-8 operators more comfortable and productive throughout their shift," Sollitt said.
Under the Hood
A powerful Tier 4 Final SAA6D170E-7 engine with a net horsepower of 609 HP in the forward direction and 748 HP in the reverse direction.
No Selective Catalytic Reduction (SCR) system or Diesel Exhaust Fluid (DEF) required.
Variable Geometry Turbocharger (VGT) improves low speed response and boost.
High pressure, common rail fuel injection system.
Dual Komatsu Diesel Particulate Filters (KDPFs).
Large capacity and high-efficiency exhaust gas recirculation coolers.
Automatic, three-speed transmission with an automatically engaging lockup torque converter provides increased fuel efficiency and faster ground speeds during long pushes.
Machine Performance Enhancements
Changes to suspended undercarriage, cab isolators, operator seat, and ergonomics of operator interface significantly improve operator comfort and yield more productive shifts.
Structural enhancements of track frame and mainframe increase major component life.
New single link blade support and larger trunnion bearings reduce maintenance, increase blade stiffness, and minimize blade shake.
Standard features such as blade auto-pitch, ripper auto-return, and shoe slip control reduce operator fatigue and increase productivity.
Improved visibility to cutting edge and ripper point.
Other noteworthy features on the D375A-8 crawler dozer:
New, optional hydraulic boarding ladder.
New full wrap-around rear platform.
Engine access doors swing forward not upward.
Swing-out, hydraulically driven and reversible radiator fan and Mesabi copper-core radiator simplifies cleaning and maintenance.
Larger cab mounts with more vertical stroke and shock absorption.
New heated/ventilated operator's seat with improved suspension and cushioning.
All new, large capacity, automatic air conditioner remote mounted behind cab.
Cab layout and work equipment control lever modifications improve ergonomics and overall operator comfort.
Ground level fluid evacuation/service center with Wiggins quick couplers.
Remote mounted, centralized grease points.
Ground level fast fuel coupler
Centralized fluid sampling and PM service connectors.
Standard rearview monitoring system.
Standard LED lighting package
Komatsu America Corp. is a U.S. subsidiary of Komatsu Ltd., the world's second largest manufacturer and supplier of earth-moving equipment, consisting of construction, mining and compact construction equipment. Komatsu America also serves the forklift and forestry markets. Through its distributor network, Komatsu offers a state-of-the-art parts and service program to support its equipment. Komatsu has proudly provided high-quality reliable products for nearly a century. Visit the website at www.komatsuamerica.com for more information.
CONTACT:
Raleigh Floyd Jr
847.437.4585
More from Electronic Components & Devices