D-Sub Connectors suit telecom and power supply applications.
Press Release Summary: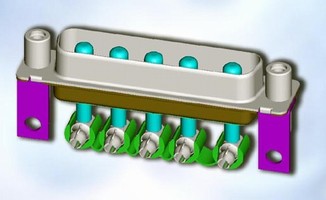 Featuring size 8 power contacts with optional integrated filter planar array, Combo D Series high power connectors ensure that 50/60 Hz frequency from power network does not interfere with operation of equipment. They accommodate right angle press fit termination and Eurostyle brackets that meet CECC75 301 802 specifications. Capable of withstanding 1,000 V peak, units offer maximum contact current rating of 40 A and passive filter array with 47 nF capacitance.
---
Original Press Release:

ITT Develops Filtered High Power D-Sub Connector for Telecom, Power Supply Applications



D-sub connector design provides high reliability in space-saving package...

SANTA ANA, Calif. - March 19, 2008 - ITT Interconnect Solutions, a leading global manufacturer and supplier of connectors, interconnects, and cable assemblies, has developed a series of filtered D-sub connectors for power applications. Designated the Combo D Series, the connectors feature size 8 power contacts with an optional integrated filter planar array. The Combo D connectors accommodate a right angle press fit termination and Eurostyle brackets that meet CECC75 301 802 specifications.

"The low profile of the Combo D filter connector along with the Eurostyle brackets provide customers with a significant space savings, while the D-sub design provides increased reliability and robustness,"
said Keith Teichmann, director of marketing for ITT Interconnect Solutions. "The connector also ensures that the 50/60Hz frequency from the power network does not interfere with the operation of equipment, making the connector ideally suited for high power telecommunications and power supply applications."

The low profile Combo D connector features a maximum contact current rating of 40A and a passive filter array with 47nF capacitance.

Minimum lifespan is 200 mating cycles, and the device is intermateable with Combo D 5W5 cable connectors. The connectors are capable of withstanding a 1000-volt peak.

Typical pricing for the Combo D Series filtered connectors is approximately $30 each. Lead time is 4 weeks.

About ITT Interconnect Solutions

ITT Interconnect Solutions is an international manufacturer and supplier of connectors including circular, rectangular, fiber optic, RF, power and high voltage, audio, PCMCIA, Compact Flash Card, enclosures, cable assemblies, and application specific custom solutions. The Interconnect Solutions portfolio includes the brands Cannon, VEAM, and BIW. For more information on ITT Interconnect Solutions and an archive of its press releases, please visit www.ittcannon.com.

About ITT

ITT Corporation supplies advanced technology products and services in several growth markets. ITT is a global leader in the transport, treatment and control of water, wastewater and other fluids. The company plays a vital role in international security through its defense communications and electronics products; space surveillance and intelligence systems; and advanced engineering and related services. It also serves the growing leisure marine and electronic components markets with a wide range of products. Headquartered in White Plains, NY, the company generated $7.8 billion in 2006 sales.

Leads Contact:
Nas Hashemian
ITT Interconnect Solutions
666 East Dyer Road
Santa Ana, CA 92705
Tel.: +714-628-8370
Fax: +714-628-2249
Email: nas.hashemian@itt.com

Web: www.ittcannon.com

Keywords: ITT, Interconnect Solutions, Combo D, D-sub, connector, filter, power

More from Health, Medical, & Dental Supplies and Equipment