Cytime Sequence of Events Recorders can store up to 8192 events.
Press Release Summary: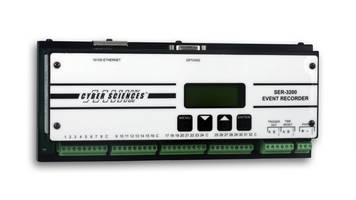 Available in SER-3200 and SER-2408 models, Cytime™ Sequence of Events Recorders come with added flash memory to store instruction bulletins, equipment drawings and maintenance records. Data can be accessed over Ethernet network with standard web browser.
---
Original Press Release:
Cytime™ Sequence of Events Recorders Upgraded to 8GB Memory
Cyber Sciences, Inc. announced today that it is increasing the onboard memory of its CyTime™ Sequence of Events Recorders SER-3200 and SER- 2408 from 4GB to 8GB as standard, passing along industry performance gains to its customer base at no extra charge. In addition to non-volatile storage of up to 8192 event records, the added flash memory is used to store instruction bulletins, equipment drawings, maintenance records and other customer data—all accessible over an Ethernet network using a standard web browser. The company continues to offer an optional upgrade to 32GB non-volatile memory for even greater flexibility.
Cyber Sciences is best known for its simple and affordable implementation of Precision Time Protocol (PTP) in its CyTime Event Recorders. PTP (defined in IEEE Std 1588™ ) enables precise time synchronization (within 100 microseconds) over the same Ethernet network used for data communications. The breakthrough technology is the "hardware-assisted" time-stamping by 1588- compliant Ethernet interfaces in the SER devices. One CyTime SER serves as PTP grandmaster clock, and all other CyTime SERs (and other PTP devices) sync automatically. In addition, each CyTime SER can serve as a "time sync hub" for devices that do not yet support PTP.
In commercial/industrial electrical networks, multiple state changes can occur within a quarter-cycle or less. One-millisecond (1-msec) resolution is the commonly accepted benchmark for meaningful analysis. "Like an airliner's black box recorder, Sequence of Events Recorders (SERs) record exactly what happened and when, to 1 msec. Unlike the airliner example, SER data is used repeatedly: for root-cause analysis, to alert on slow breakers, or to verify proper operation of control systems," said Katessha Witherspoon, Cyber Sciences' Sales Director.
Cyber Sciences, Inc. (CSI) is a global leader in precision time solutions for commercial/industrial facilities, including data centers, hospitals, universities, microgrids and alternative energy. Key applications include sequence of events recording (SER) and GPS time synchronization, helping facility managers and engineers to ensure the reliability, efficiency and safety of their normal and emergency power systems. Cyber Sciences is a privately-held corporation located in Murfreesboro, Tennessee, 25 miles southeast of Nashville. For more information about CyTime Sequence of Events Recorders, please contact the company by phone at 1-615-890-6709, by email at sales@cyber-sciences.com or visit the company's web site at www.cyber-sciences.com.
Contact:
Robert A. Kennedy, PE,
VP Sales & Marketing
Cyber Sciences, Inc. (CSI)
229 Castlewood Drive, Suite E
Murfreesboro, TN 37129 USA
Phone: +1 615 890 6709
Fax: +1 615 439 1651
Email: marketing@cyber-sciences.com
robert.kennedy@cyber-sciences.com
Related