Cylindrical Roller Bearings withstand extreme conditions.
Press Release Summary: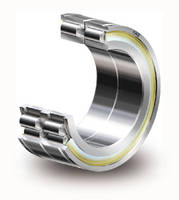 Suitable for rope wheels and pulleys, NNF Series is sealed on both sides to prevent dust and splash water from entering bearings. Double row full complement bearings are suitable for low to medium speeds and can take up axial forces and tilting moments in both directions. Lubrication holes in outer and inner ring enable re-lubrication through shaft and housing. For corrosion protection, bearings are available with RoHS-compliant, anti-corrosion coating.
---
Original Press Release:

NKE Double Row Full Complement Cylindrical Roller Bearings



Locating bearings with maximum load carrying capacity, also under extreme operating conditions

Steyr, Austria, 1 October 2009. Bearing manufacturer NKE AUSTRIA GmbH introduces the NNF series of double row full complement cylindrical roller bearings. This series of bearings features a compact design and maximum load carrying capacity. The bearings are sealed on both sides and suitable for extreme operating conditions. Typical applications for NNF bearings are rope wheels and pulleys.

The maximum radial load carrying capacity of the NNF series cylindrical roller bearings is accomplished through the full complement design, i.e. a maximum number of rollers is fitted within the available cross-section. They are suitable for low to medium speeds and can take up axial forces and tilting moments in both directions. To prevent dust and splash water from entering the bearings, the NNF series is equipped with contacting seals on both sides. A special grease allows the bearings to operate under extreme conditions. Lubrication holes in the outer and inner ring enable easy re-lubrication through shaft and housing.

Rope wheels and pulleys are typical application examples for NNF series double row full complement cylindrical roller bearings. Due to the narrower outer ring, additional sleeves or distance pieces are not required. Two snap ring grooves on the outer ring simplify the bearing arrangement design for sheaves. For better corrosion protection, the bearings are also available with a special, RoHS compliant anti-corrosion coating SQ171. Black oxide coating can also be realised to optimise the tribological characteristics of the bearings. Furthermore, the bearings can be manufactured in application specific clearance and tolerance classes.

Bearing specialist NKE AUSTRIA develops and manufactures both standard and special bearings for all industrial applications. In addition to product development and application engineering, NKE provides a full range of technical services and training. NKE's products are distributed through 15 international representative offices and more than 240 distribution outlets in 60 countries.

Company information:

NKE Austria GmbH is a bearing manufacturer with headquarters in Steyr, Austria. Founded in 1996 by a group of senior staff members of former company Steyr W¤lzlager, NKE has about 180 employees and offers both standard and special bearings for all industrial applications. NKE's core functions - engineering, product development, final processing of components, assembly, quality assurance, logistics, and sales and marketing - are centralised at its Steyr headquarters. The Steyr site is accredited to ISO 9001:2000 (design, development, production and distribution of bearings) and ISO 14001:2004 Its wide range of standard bearings are either available from stock or on short production lead-times. NKE also provides tailored products and solutions. In addition to product development and application engineering NKE provides a full range of technical services, consulting, documentation and training. NKE's products are distributed through 15 international representative offices and more than 240 distribution outlets in 60 countries. In Canada, NKE products are distributed through Global Bear Inc.

Contact in the USA:

NKE AUSTRIA GmbH, US representative office

Mr. Dick Scott

20 Barney Road, P.O. Box 5255 Clifton Park, New York 12065 Tel: 518 371 5759 Fax: 518 383 6487

Contact in Austria:

NKE AUSTRIA GmbH

Janet Mo, Marketing

Im Stadtgut C4

A-4407 Steyr, Austria

Tel.: +43 7252 86667 345

Fax: +43 7252 86667 59

E-Mail: j.mo@nke.at

Internet: www.nke.at

More from Electrical Equipment & Systems