Cylindrical Roller Bearings feature sheet steel cage.
Press Release Summary: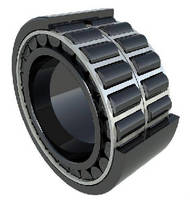 Designed for wind turbine gearboxes, FAG Cylindrical Roller Bearings feature self-retaining cage that facilitates mounting since rolling elements are retained even when ring is removed. Comprising 2 cage rings lying one inside the other and joined together, cage minimizes friction and provides sufficient space for additional roller element in bearing. Geometrical shape of cage pockets optimizes lubricant flow, which helps prevent damage to bearing.
---
Original Press Release:

New Bearing Cage Extends Life of Cylindrical Roller Bearings by More than 20 per cent



A new high capacity cylindrical roller bearing for wind turbine gearboxes has been developed, which offers higher load ratings and reduced friction due to a new cage design. The basic static and dynamic load ratings of the new bearings are 6 per cent higher than those of a conventional cylindrical roller bearing with solid brass cage, resulting in a 20 per cent increase in rating life.

Schaeffler's new FAG high capacity cylindrical roller bearings have a new sheet steel cage, which enables a much more compact design compared to a conventional solid brass cage. This more slimline cage leaves space for at least one additional rolling element in the bearing, which increases the load rating significantly.

There are other advantages too. Due to the new cage, the high capacity bearing has a significantly lower friction than full complement cylindrical roller bearings with maximum basic load rating. The 'self-retaining' cage also simplifies bearing mounting because the rolling elements are retained even when the ring is removed.

Today, most planetary stages of wind turbine gearboxes use full complement cylindrical roller bearings. These bearings have no cage, the function of which is to guide the rolling elements and to maintain a set distance between them. These full complement bearings have the highest load ratings, since more rolling elements are fitted to bearings that have no cage.

However, full complement roller bearings have relatively high friction because the rolling elements are in direct contact with each other. These kinematic conditions cause higher friction losses. In contrast, cylindrical roller bearings with conventional solid brass cages have significantly lower friction, but often do not achieve the required load ratings due to the reduced number of rolling elements.

Narrow but rigid: two sub-cages

Schaeffler's new FAG high capacity cylindrical roller bearings incorporate a newly developed sheet steel cage, which ensures low friction and provides sufficient space for an additional roller element in the bearing (due to very narrow crosspieces).

The cage comprises two cage rings lying one inside the other and joined together. The crosspieces of the inner cage guide the roller elements. At the same time, these retain the roller elements in the bearing, even when the bearing ring is removed. This means that the bearing is much easier to mount, as no separate device is required to help prevent the roller elements from falling out.

In addition, the special geometrical shape of the cage pockets improves lubricant flow, which reduces friction and prevents damage to the bearing.

20 per cent higher rating life

The basic static (C) and dynamic (Co) load ratings of the high capacity cylindrical roller bearing are 6 per cent higher than those of a conventional cylindrical roller bearing with a solid brass cage. This means that the rating life is increased by more than 20 per cent.

The new bearings are currently undergoing trials in various customer applications. Schaeffler plans to commence volume production of the bearings in 2011.

For more information on Schaeffler's high capacity cylindrical roller bearings for wind turbine gearboxes, please visit www.schaeffler.co.uk or telephone the marketing department on 0121 313 5870 or email info.uk@schaeffler.com

With a total of 65,000 employees at over 180 locations around the globe and group sales of 7.3 billion euros (fiscal year 2009), the Schaeffler Group is one of the world's leading roller bearing manufacturers and automotive component suppliers. The corporate group includes the INA Group with headquarters in Herzogenaurach, the FAG Group based in Schweinfurt as well as the LuK Group, with headquarters in Bühl.

Schaeffler (UK) Ltd,

Forge Lane

Minworth

Sutton Coldfield
West Midlands B76 1AP

Tel: 0121 313 5870 Fax: 0121 351 7686

e-mail: info.uk@schaeffler.com

www.schaeffler.co.uk

More from Electrical Equipment & Systems