Cylindrical Grinding Machine offers 1,000 mm capacity.
Press Release Summary: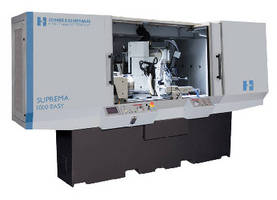 Providing 160 mm center height, 100 kg weight capacity, and 5 kW wheel head power, Suprema 1000M is suited for tool room, batch, or high-volume production. System features swiveling wheel head with 400 x 50 mm left wheel and 350 x 50 mm right wheel. Belt-driven internal grinding system is ready to accept optional internal spindle. Equipped with Fanuc Power motion control, Suprema 1000M offers online storage for all dressing and grind programs, USB connectivity, and color touchscreen.
---
Original Press Release:

Jones and Shipman Introduces New Suprema Grinding Machine



Jones and Shipman introduces their new Suprema 1000M cylindrical grinding machine with productivity enhancements not found in their current 1000mm machine. "The Suprema 1000M is an affordable and sophisticated cylindrical grinding machine with a simple setup," states Jeff Hilliard, North America Sales Manager, Hardinge Grinding Group. "These important upgrades will help end users achieve greater productivity and flexibility while maintaining the core advantages of the J&S "easy" programming system."



Jones and Shipman's "self teach" easy touch screen has been upgraded to a Fanuc Power motion. New features include online storage for all dressing and grind programs, USB connectivity, improved reaction times and a color touch screen to further improve programming and set up time.



Larger wheel diameters provide longer wheel life and increased productivity by reducing the number of dresses required in the grinding cycles. The Suprema 1000M has a robust, swiveling wheel head with a left and right external wheel. The left-hand wheel is 400 x 50mm, while the right hand wheel is 350 x 50mm. A belt-driven internal grinding system is ready to accept an optional internal spindle.



An increase on the wheel head power to 5kw (3.75kw on existing 1000mm machine) will allow further improvements in productivity and reduce cycle times. A machine guard re-design improves machine accessibility to assist and improve setting, cleaning and maintaining the machine.



The Jones and Shipman Suprema 1000M has a center height of 160mm with a 100kg weight capacity. Ideal for tool room, batch or high volume production, the highly versatile Suprema 1000M features "easy" self teach programming software, a robust "Tee Bed" design, high geometric accuracy and the latest touch screen technology. "The Suprema line of grinding machines have three modes of operation — manual, semi or fully automatic control of grinding and dressing cycles, states Jeff. Inexperienced operators will appreciate the simple setups of this control."



Jones and Shipman, a Kellenberger company, is a subsidiary of Hardinge Inc. Suprema grinding machines are available in 650, 1000, and 1500 mm grinding lengths. Model 1000M grinding machine will be available in 2014. For more information, contact Hardinge Inc. at 607-378-4611, or visit www.hardinge.com.



About Hardinge Inc.

Hardinge is a global designer, manufacturer and distributor of machine tools, specializing in SUPER- PRECISION(TM) and precision CNC Lathes, high performance Machining Centers, high-end cylindrical and jig Grinding machines, and technologically advanced Workholding & Rotary Products. Hardinge is also the world's largest manufacturer of collets (5C Collets, 16C Collets, 20C Collets, Swiss Collets and other styles) for all brands of machines including custom engineered solutions. Hardinge has a very diverse customer base and serves a wide variety of end-user markets. This customer base includes metalworking manufacturers which make parts for a variety of industries, as well as a wide range of end users in the aerospace, agricultural, transportation, basic consumer goods, communications and electronics, construction, defense, energy, pharmaceutical & medical equipment, and recreation industries, among others. Hardinge has manufacturing operations in the United States, Switzerland, Taiwan, and China. For more information, please visit http://www.hardinge.com.



Hardinge Inc., One Hardinge Drive, PO Box 1507, Elmira, New York 14902-1507 USA. Phone: 800-843-8801; Fax: 607-734-8819; E-mail:

[email protected]