Cylinder Rack keeps dive gas mixes from stratifying.
Press Release Summary: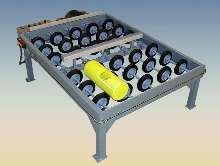 Cylinder Rolling Rack insures homogenous mixture of nitrox and heliox technical diving, premixed breathing gases. Unit can roll 1-8 high pressure, scuba-type cylinders at once. Frame-mounted control box incorporates programmable timer, automatic or manual cycle controls, and power/start/stop switches with indicating lamps. Cylinder Rack features emergency-stop mechanism, ease of loading and off loading, and quiet operation.
---
Original Press Release:

Cylinder Roller for SCUBA Tanks


Press Release Date: November 14, 2003

Body Text: GOW-MAC Instrument Company, a leading manufacturer of gas analysis instrumentation and compressed gas handling equipment, introduces an 8-cylinder rolling rack designed to keep technical dive gas mixes from stratifying before use.

Technical diving premixed breathing gases such as nitrox (O2/N2) and heliox (O2/He) have very different densities in the mix. All professional sources say that after storage, gases with differing densities in the cylinder will stratify. Cylinder rolling insures a homogeneous mixture of the components. Some experts say cylinders should be rolled after filling, shortly before use, under very short storage conditions, or if cylinders were not filled properly. One major gas supplier says, "Depending on the gases involved, natural gas mixing without rolling will take varied times. This is the reason that rolling is encouraged for every mixture."

GOW-MAC's cylinder roller is specifically designed to roll 1 to 8 high pressure, scuba-type cylinders at once. Features include a frame mounted control box in which resides a programmable timer, automatic or manual cycle controls, and power/start/stop switches with indicating lamps. Other features include an emergency-stop mechanism; ease of loading and off loading; and quiet operation.

Customers can visit www.gow-mac.com or contact GOW-MAC Instrument Co., P.O. Box 25444, Lehigh Valley, PA 18017, (610) 954-9000 for free literature and complete detail

More from Machinery & Machining Tools