Cyclone enhances dust collector efficiency.
Press Release Summary: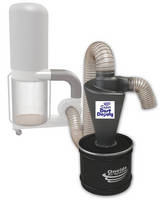 Super Dust Deputy can turn single-stage, 1.5–3 hp dust collector into cyclonic collector. Molded, static dissipative plastic cyclone separates over 99% of waste before it reaches collector, preventing filter clogging and keeping airflow consistent. At 27 in. tall, cyclone can be attached to any sturdy, air-tight dust container. With 5 in. inlet and 6 in. outlet, product installs between tool and collector using appropriate diameter flex hose.
---
Original Press Release:

Oneida Air Systems New Super Dust Deputy



Oneida Air Systems new Super Dust Deputy can turn your inefficient single stage dust collector into a super cyclonic collector. The molded, pat. pend. , static dissipative plastic cyclone separates 99%+ of waste before it reaches your collector.  It has a compact footprint and easy installation. Made in the USA.  www.oneida-air.com  1.800.732.4065



Oneida Air Systems new Super Dust Deputy can turn your inefficient single stage, 1.5 to 3hp dust collector into a super cyclonic collector. The molded, pat. pend. , static dissipative plastic cyclone separates 99%+ of waste material before it reaches your collector. This prevents filter clogging and keeps airflow high and consistent. No more stopping to clean your filter or empty your plastic bag. It's cyclone is only 27" tall and can be attached to any sturdy, air-tight dust container. Installation is simple, you just put it between your tool and collector using the appropriate diameter flex hose and you're ready to go. It's the perfect solution to enhance your shop's dust collection without a lot of expense or trouble. Made in the USA.  www.oneida-air.com  1.800.732.4065



Oneida Air Systems' new Super Dust Deputy can turn your inefficient single stage, 1.5 to 3hp dust collector into a super cyclonic collector. The molded, pat. pend. , static dissipative plastic cyclone separates 99%+ of waste material before it reaches your collector. This prevents filter clogging and keeps airflow high and consistent. No more stopping to clean your filter or empty your plastic bag. You can work for hours. It's cyclone is only 27" tall and can be attached to any sturdy, air-tight dust container or use the optional 17 gal. steel drum. With a 5" inlet and 6" outlet, installation is simple. You just put it between your tool and collector using the appropriate diameter flex hose and reducers and you're ready to go. It's the perfect solution to enhance your shop's dust collection without a lot of expense or trouble. It's made in the USA and can retrofit to any type of collector. www.oneida-air.com 1.800.732.4065