Cyclone Dust Collectors feature storage hopper.
Press Release Summary: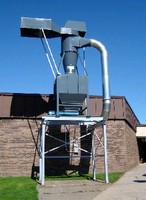 Available in 7 models from 1,500-12,000 cfm and 2-50 hp, Cyclone Dust Collectors centrifugally separate dust and chips from air stream, exceeding 99% efficiency by weight for wood dust and waste from steel grinding. Storage hopper, with capacity of 105 cu-ft, features 24 in. square rack and pinion slide gate with hand wheel or pull chain operator. It is suited for wood or plastic waste storage and enables gravity transfer into pick-up truck or garbage container.
---
Original Press Release:

Sternvent Offers Cyclone Dust Collector with Storage Hopper



For applications where a 55 gallon drum must be emptied too frequently and a motorized rotary airlock is too costly, Sternvent now offers a cyclone dust collector with a storage hopper underneath for greater volume of waste storage. The 105 cu ft hopper features a 24" square rack and pinion slide gate with hand wheel or pull chain operator. It is ideal for wood or plastic waste storage and provides for easy gravity transfer into a pick-up truck or garbage container. The cyclone is available from Sternvent with a top-mounted fan and silencer (as shown) or with a ground-mounted fan for ease of maintenance.

Sternvent high efficiency cyclone dust collectors provide an economical method for controlling large dust particles. A range of seven basic models from 1,500-12,000 CFM allows the selection of the right size cyclone for each application. Models range from 2 -50 HP. Designed for demanding industrial manufacturing applications, these cyclones centrifugally separate dust and chips from the air stream. With only one moving part (the fan impeller) overall cleaning efficiency exceeds 99% by weight for wood dust and waste from steel grinding.

Established in 1952, Sternvent specializes in small to medium size industrial dust collectors, which include high efficiency cyclones, compact shaker style collectors, jet-pulse bag and cartridge units, oil mist collectors, used in the woodworking, plastic, metalworking and pharmaceutical industries. Equipment is available with basic modifications such as special filter media, alternate fan, special height dust containers, stainless steel construction and alternate voltages for export.

For further information visit: sternvent.com/highcyclone.htm or contact Peter Levitt at: info@sternvent.com, 800-383-DUST (3878)

More from Test & Measurement