CY Plastics Adds Injection Molding Press and Robotic Parts Processing Equipment in Western NY Manufacturing Facility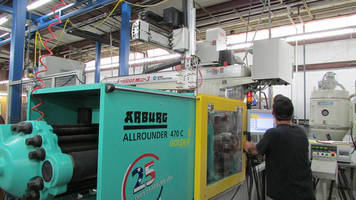 Investments expand capabilities and flexibility for growing plastics molding shop near Rochester, NY



Honeoye, NY – CY Plastics, Inc. (www.cyplas.com) has added new equipment and staff at its plastics molding facility near Rochester, NY.  Completing steps announced in June of this year, CY Plastics has added a new Arburg 470 C injection molding press, the third of this model at the plant, providing added capacity and scheduling flexibility. The new press is paired with an additional Star Automation three-axis programmable robot with end-of-arm tooling to remove parts from the mold and weld them into an assembled part using a new Branson 920 ultrasonic welder.



See the video at https://youtu.be/f0DhVw5RQDw (0:53)



CY Plastics has also added six employees since June. The new equipment and increased staffing levels support a major new customer and position the company for continuing growth.



About CY Plastics

CY Plastics (www.cyplas.com) excels at injection molding and blow molding of engineered components for industrial, medical and commercial products. The company offers exceptional quality and value in mold production, combining well-established off-shore tooling partnerships with in-house expertise in tool design, production and maintenance. It provides high-quality, low- to mid-volume production near Rochester, NY, where skilled technicians employ modern equipment and expertise in a wide range of specialty materials. With comprehensive finishing, assembly and inventory services, CY Plastics delivers a complete finished product to its customers.  Expert guidance and personal attention at every step of the process ensure high customer satisfaction.





More from Explosives, Armaments, and Weaponry