CX1000 Portable Air Purifier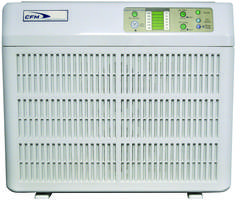 Continental Fan offers the most advanced air purifier available today. The CX1000 portable air purifier deals with all facets of air purification: particle removal, chemical neutralization, and living organism abatement.
The CX1000 provides up to 1,000 square feet of complete air purification. Using patented technology, the CX1000 incorporates Photo-Catalytic Oxidation that uses UVC light to activate a highly reactive catalyst. This process converts toxic compounds into benign constituents such as water and carbon dioxide.
The CX1000 air purifier features an electronic sensor that constantly monitors air quality and automatically increases airflow to compensate for periods of unusually high chemical activity or particle count. Warning lights signal the presence of toxic chemicals and fumes well before they reach dangerous levels or become detectable to the human senses.
CX Complete Air Purifiers:
Create a cleaner environment
Promote health and wellness
Alleviate fatigue and headaches
Ease breathing problems
Reduce asthma, hay fever and sinus problems
Control pet odors and dander
Cut dust and cleaning requirements
Relieve sore throats, runny noses and sneezing
The CX1000 Portable Air Purifier, a better AIRFLOW solution from:
Continental Fan - better AIRFLOW by DESIGN™
For more information contact Jennifer Heerschap, or visit us on the web to view our full line of residential ventilation products.
Contact:
Jennifer Heerschap
E: jheerschap@continentalfan.com
T: 800-779-4021 Ext: 223
F: 937-233-5534
CANADA – Continental Fan Canada Inc.
12-205 Matheson Blvd E,
Mississauga, ON L4Z
More from Agricultural & Farming Products