CX-Pro Whole House Air Purifier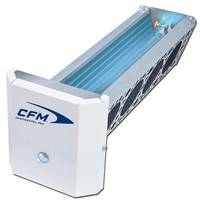 CX-Pro combines three powerful purification forces into a whole house air purifier that is ozone free. The high-intensity UVC germicidal lamp neutralizes viruses, bacteria and mold. The patented design uses a Photocatalytic Oxidation (PCO) process to neutralize odors and toxic VOCs into benign constituents and an activated carbon adsorption media to trap odors and toxic chemicals. In as little as two hours, the CX-Pro neutralizes 93.6% of airborne germs and 80% of odors and VOCs.
Features & BENEFITS
High-intensity, UVC germicidal lamp
Aluminum substrate & carbon media never need replacing
Easily installs in an HVAC duct system
Install in supply duct, in return plenum or above AC coil
UVC light irradiates AC coil of toxic organics and biofilm
Ozone free
Pre-wired 120V power cord; 230V option
2-year lamp efficiency
Limited 10-year warranty
The CX-Pro Air Purifier, a better AIRFLOW solution from:
Continental Fan……… better AIRFLOW by DESIGNTM
For more information contact James Peck, or visit us on the web to view our full line of residential ventilation products.
Related