CW Ultra Wheel features newly formulated polyurethane.
Press Release Summary: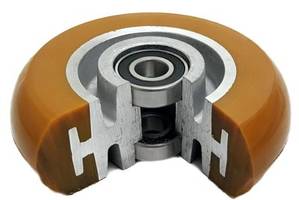 CW Ultra Wheel limits noise, factory floor marks and resists debris. Polyurethane allows the wheel to store energy and move with reduced resistance. It uses a larger bearing and top hat bushings to handle heavier loads and friction with a load capacity of 1500 pounds per wheel. Product is available in the sizes of 5" x 2" to 8" x 2".
---
Original Press Release:
CW Ultra Wheel Designed for ERGONOMICS
The CW Ultra wheel features a round thread that makes turning or starting with or without a heavy load a simple task.
The CW Ultra wheel offered by Caster Works Inc. is made of innovative specially formulated polyurethane that reduces vibration in the wheel resulting in a quieter ride and less wear and tear on the casters, caster wheels and cargo. In addition, the new polyurethane that the CW Ultra wheel is made of has been engineered to repel steel chips, slag, pins, nuts, bolts, and will not green tire.
Caster Works Inc. CW Ultra wheel specially formulated wheels help to absorb vibration and shock protecting the load or cargo while in transit.
The CW Ultra wheel is made of softer polyurethane that measures 80-85 Durometer on the Shore A scale compared with the industry-standard hardness of 90-95 Shore A.
Another benefit of the CW Ultra wheels special Durometer is noise reduction.
The CW Ultra caster wheels is non-marking, quiet and debris resistant.
Caster Works Inc. special formulation of polyurethane absorbs energy which offers an energized wheel, allowing the wheel to start rolling easier due to stored energy.
The new formulation of polyurethane also helps release heat generated from the friction due to contestant use and towing like you would see in industrial continuous use tow lines.
The results are numerous, including a longer acceptable use of the caster without failure even under continuous and extreme use.
Caster Works Inc. CW Ultra wheels have found popularity among automotive plants and those customers with industrial towlines wanting to lower factory noise levels, improve floor protection and reduce tread failures, as well as extend caster life and lower push / pull weights on their carts.
The CW Ultra wheels use a larger than the industry standard bearing allowing for greater weight and friction distribution throughout the caster, making the caster easier to push and pull.
The CW Ultra wheel offered by Caster Works Inc. has a load capacity that is up to 20% higher than the competition.
The CW Ultra Wheel offered by Caster Works Inc has a 3 Year Warranty- CALL CASTER WORKS INC.  FOR DETAILS.
CW Ultra wheels features a SPECIALLY FORMULATED polyurethane tread that is mechanically and chemically bonded to a lightweight, sturdy aluminum core. The round tread is combined with a maintenance free, sealed precision ball bearing.
The CW Ultra wheel is available in the sizes of 5"x 2" through 8"x 2". With capacities per wheel up to 1500 pounds each. Each Wheel includes bearings and top hat bushings.
Shop with confidence, call Caster Works Inc today to buy the CW Ultra wheel for your caster and caster wheel needs.
Contact:
Anthony Harrelson
1-800-599-5131 
172039@email4pr.com 
www.casterworks.com
More from Agricultural & Farming Products